My go-to method for how to make perfectly roasted broccoli, plus lots of extra ideas for seasonings that you can add.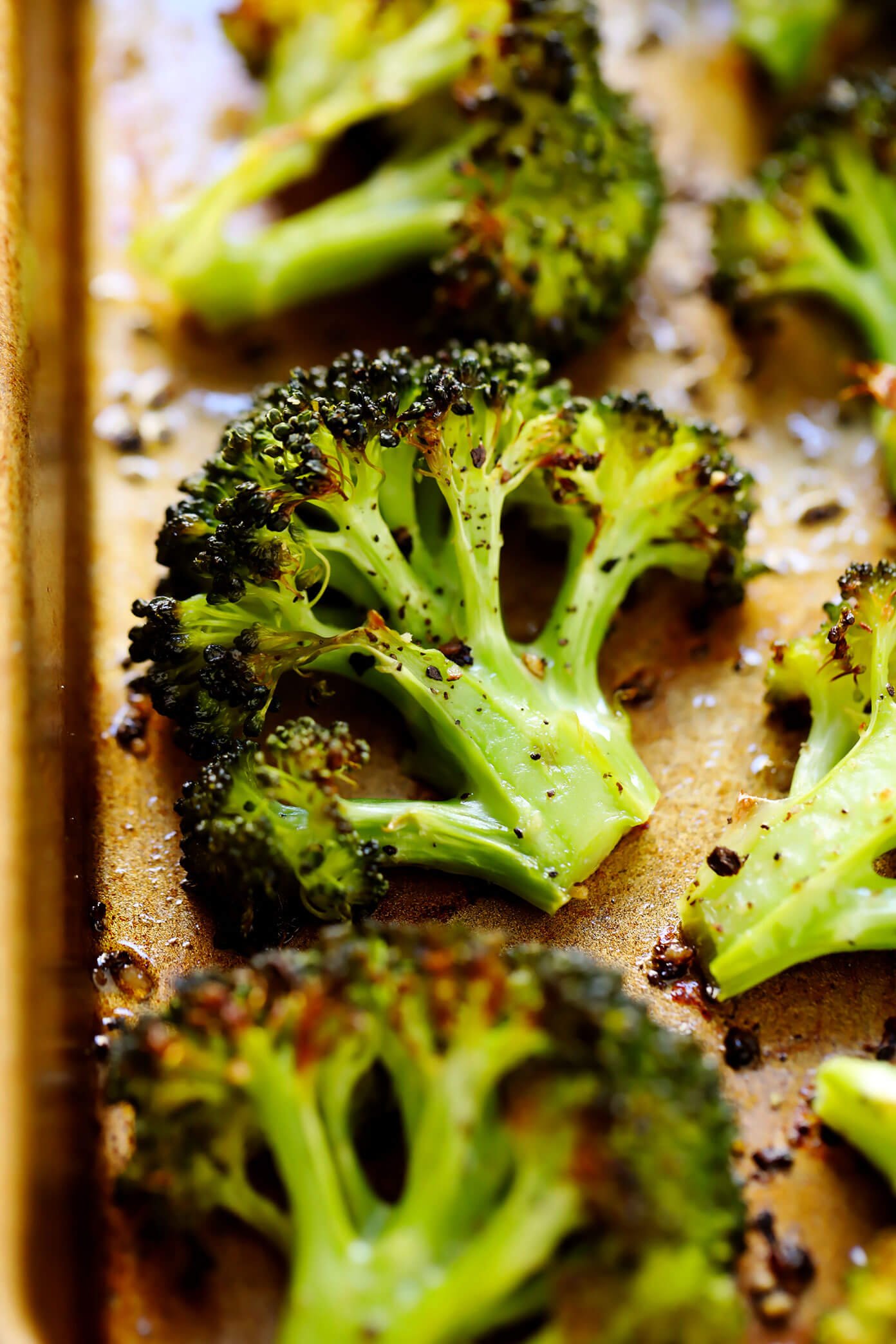 Hey hey, we're talking today about my favorite method for how to cook broccoli…
…roasting it. ♡
I've admittedly always been a little "meh" about raw and steamed broccoli, but when it is roasted, I can pop the stuff like candy.  That winning combination of slightly-charred, crispy buds in the same bite as those tender, caramelized little stems is quite simply broccoli at its best.  I love serving roasted broccoli on its own as a simple side dish, or adding it to everything from pastas to quiches, tacos, pizzas, pastas, soups, salads, and more.  And hey, with all of the fiber, vitamins and nutrients packed into each little floret, you can feel great about roasting up a batch as often as possible!  (Hehe, we sure do in our house!)
The other great news about roasted broccoli is that it is incredibly easy to make.  Most of the time, we keep ours super-simple in our home and roast it with just olive oil, salt and pepper, which is always a winner.  But I've also included lots of different seasoning ideas below if you want to mix things up a bit.
Bottom line — if you are a broccoli lover, or even an aspiring broccoli lover, I highly recommend roasting up a batch!  I always joke that roasted broccoli was my gateway into finally learning to love this brassica veggie.  And now, can't imagine life without it!
How To Cut Broccoli:
When shopping for broccoli at the store, you want to look for a head of broccoli with florets that are bright green (not significantly yellowed) and with a stalk that is firm and strong (not stringy or woody).
Once you bring the broccoli home, be sure to give it a good rinse.  Then cut off and discard the stalk.  (<–We won't use it in this recipe, but as you will see in the video above, there are all sorts of ways that you can cut/serve the stalk so that it doesn't go to waste.)  Then use a knife to carefully cut the florets into bite-sized pieces.  I especially like to halve the florets length-wise when roasting broccoli so that the flat edges can get extra caramelized on the bottom of the pan while roasting.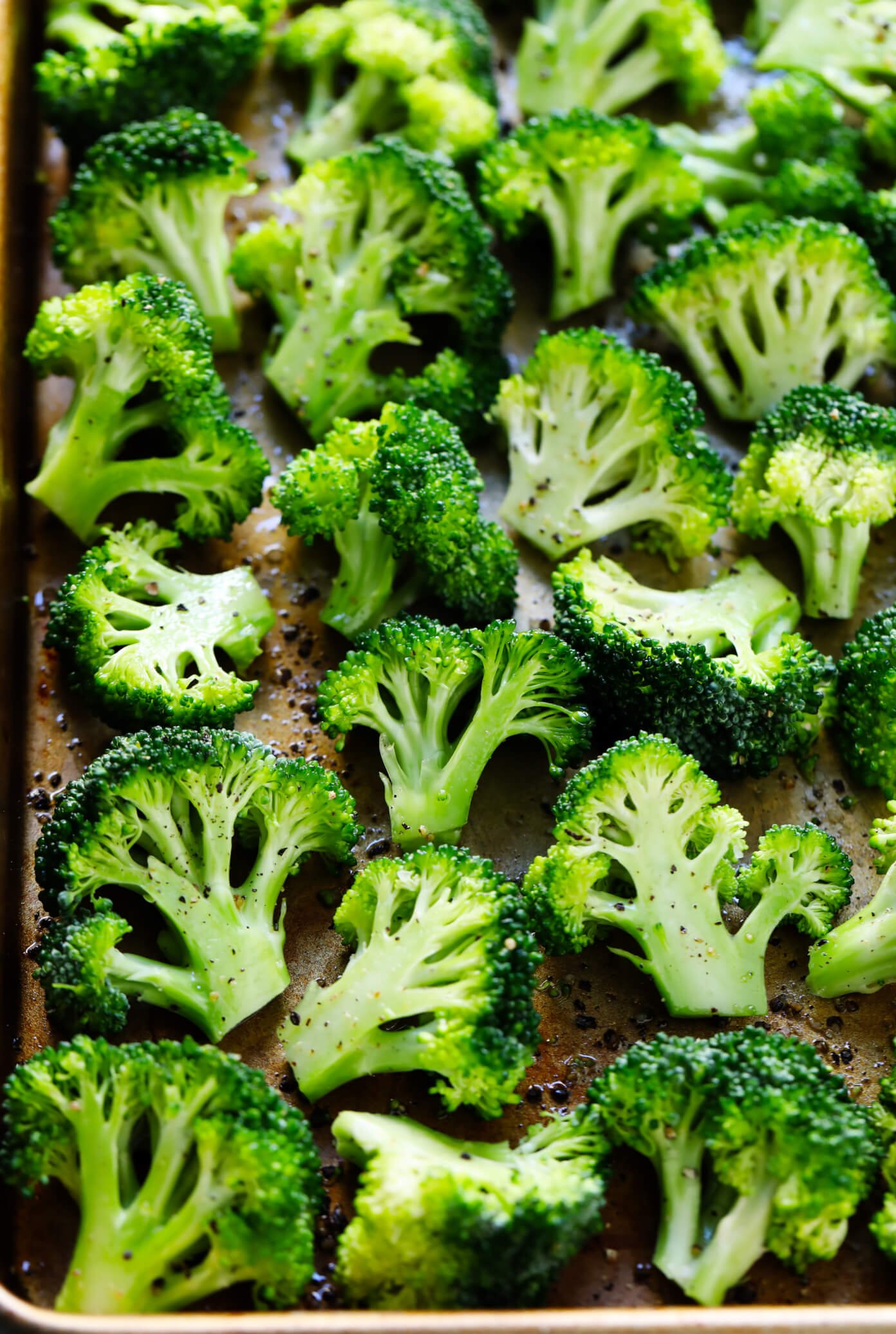 Roasted Broccoli Ingredients:
Beyond the florets themselves, the basic ingredients for roasted broccoli are pretty simple!  You will need:
Broccoli florets: As detailed above, cut into bite-sized pieces.
Olive oil: I typically use traditional refined olive oil (not extra-virgin) for roasting veggies, since it has a higher smoke point.  But feel free to use whatever cooking oil you prefer.
Sea salt and freshly-cracked pepper: I'm especially partial to the extra crunch of some coarsely-ground black pepper with my roasted broccoli recipe — it's delicious.
Plus, see below for some fun variations and seasonings that you are welcome to add too.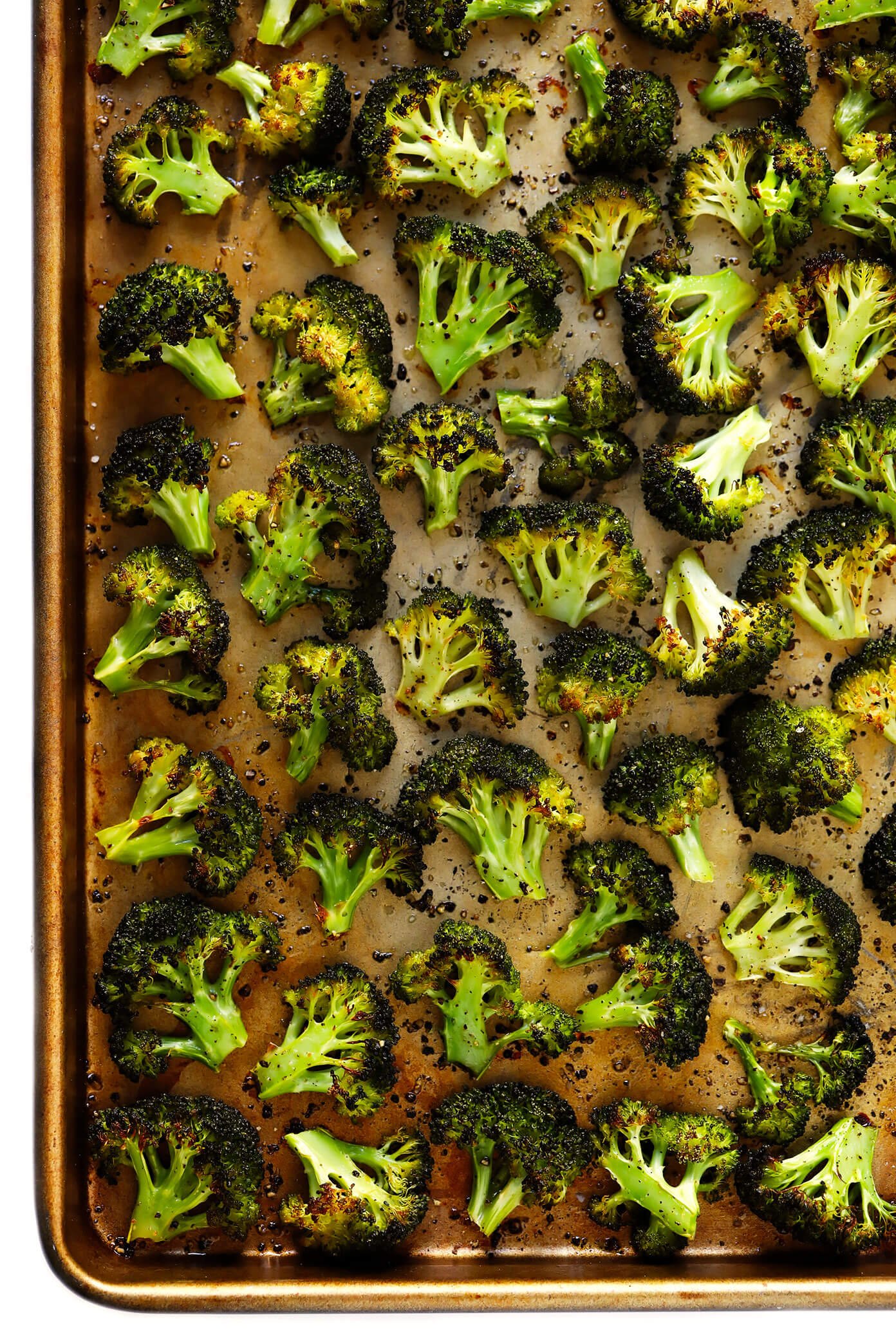 How To Roast Broccoli:
So here's my best tip for how to cook broccoli so that you get those nice crispy edges without the stems getting too mushy — high heat.  Your oven is going to need to preheat to a toasty 450°F for this recipe.  But it goes quickly and works like a charm for me every time.  To roast broccoli in the oven, simply…
Toss in oil and season.  I usually just do this straight on the baking sheet itself (mainly to save myself an extra bowl to wash!).  Spread the broccoli florets out on a baking sheet.  Drizzle evenly with oil and toss to combine.  Spread the broccoli back out in an even layer (cut/flat-sides down, if you would like those to get extra caramelized).  Then season everything evenly with a generous pinch or two of fine sea salt and freshly-cracked black pepper.
Roast.  Pop the baking sheet in the oven and roast on high heat for about 15-20 minutes, or until the edges of the florets are slightly charred and crispy.  Keep a close eye on them, as the florets can char quite quickly.  (They will also cook faster, of course, if you have cut the broccoli into smaller-sized florets.)
Season.  Give the roast broccoli florets a taste and see if they need any extra salt and pepper.  Then dish up, serve warm, and enjoy!
Full instructions detailed in the recipe box below.
Possible Variations
This roasted broccoli recipe is super-versatile, so feel free to get creative with different seasoning combinations beyond salt and pepper!  Some of my faves include making the broccoli:
Lemony: You can never go wrong with drizzling roasted broccoli with some freshly-squeezed lemon juice just before serving.
Cheesy: I love topping roasted broccoli with everything from salty Parmesan cheese to a sharp cheddar cheddar to creamy burrata.  Most of the time, I recommend adding the cheese immediately after you remove the broccoli from the oven, unless it happens to be a type of cheese that can safely cook and melt under high heat.
Spicy: Crushed pepper flakes are a great way to add some heat!  Just sprinkle your desired amount onto the roasted broccoli after it has finished cooking.
"Everything": I absolutely love sprinkling roasted broccoli with everything bagel seasoning after it has finished cooking — delish!
Italian: Again, Parmesan is always a win.  But feel free to also toss the pre-cooked broccoli with a few teaspoons of Italian seasoning, and/or sprinkle with toasted pine nuts after the broccoli has finished cooking.
Sesame Ginger: Grate or mince 1 inch of (peeled) fresh ginger and toss it with the broccoli before cooking.  Then once the broccoli has finished cooking, toss it with a drizzle of toasted sesame oil.  Then maybe sprinkle on some toasted sesame seeds for an extra garnish, if you would like.
Ways To Serve Roasted Broccoli:
A few of my favorite ways to serve roasted broccoli include…
On its own: Just as a simple side dish.
Mixed into dishes: Such as a broccoli quiche, broccoli tacos, broccoli pizzas, broccoli (cheese!) soup, broccoli salad, broccoli casserole and more.
---
Description
My go-to method for how to make perfectly roasted broccoli!  See notes above for extra seasonings that you can add.
---
Scale
Ingredients
1

bunch of broccoli (about

1.5

pounds), with the florets cut into bite-sized pieces

2 tablespoon

s olive oil
sea salt and freshly-cracked black pepper
---
Instructions
Heat oven to 450°F.  Line a rimmed baking sheet with parchment paper* or mist with cooking spray.
Spread the broccoli florets out evenly on the baking sheet and drizzle evenly with olive oil.  Toss until the florets are evenly coated.  Season with salt and pepper.
Cook for about 15-20* minutes, or until the florets are slightly charred and crispy around the edges.
Taste, and season with additional salt and pepper if needed.  Serve warm.
---
Notes
*Parchment Paper: Double-check the temperature limit on your parchment paper.  If it is not made to withstand high heat, I recommend just misting your baking sheet with cooking spray.
*Cooking Time: This will depend on the size of your florets, so keep a close eye on them to be sure that they do not burn (especially if you have smaller florets).