These Roasted Broccoli and Farro Bowls are loaded up with hearty whole grains, avocado, veggies, greens, crispy almonds, and the dreamiest lemon-tahini dressing.  Naturally vegan and delicious!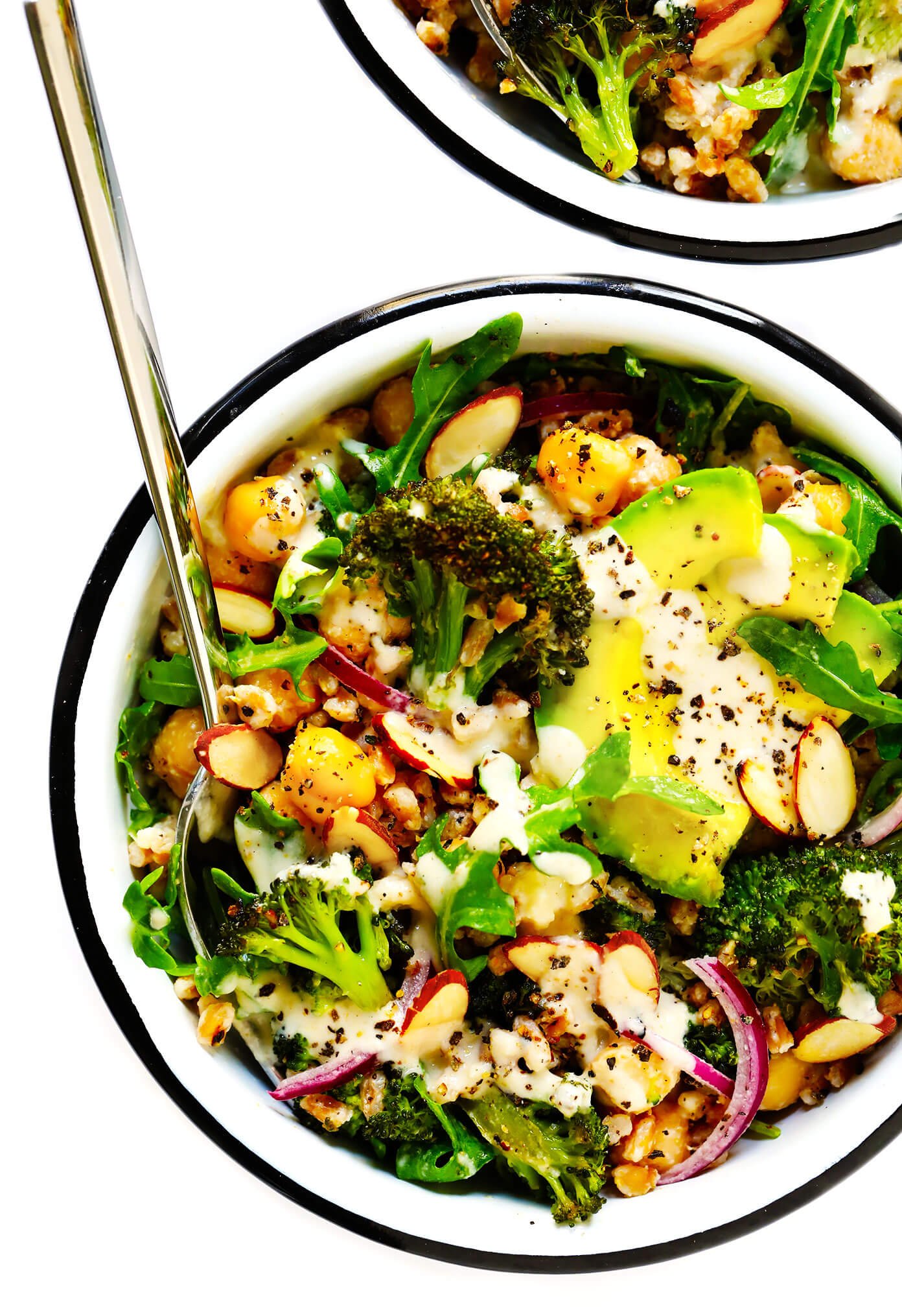 Meet the yummy grain bowls that I've been living on these past few weeks. ♡
These initially came about as an impromptu clean-out-the-fridge sort of meal after vacation, when I decided to roast up a bunch of broccoli that was on its last leg and make use of the farro that I recently realized I have been hoarding in the pantry (ha, whoops and yum).  But holy cow, once I added in some fresh avocado and arugula and toasted almonds, then tossed everything together with my favorite dreamy tahini dressing, both Barclay and I agreed that these farro bowls was a total home run.
Mostly, we love it because it's full of nutritious ingredients that we love and that make us feel great.  It just so happens to be naturally vegetarian and vegan, although you're welcome to add in some crumbled feta or goat cheese (or even some chicken) if you'd like.  It holds up really nicely in the fridge, making it a great meal-prep recipe for easy lunches or dinners for the week ahead.  It can be served as either a main course or as a side dish.  It's super-easy to customize with whatever grains/rice, veggies, greens, beans, and nuts that you happen to have on hand.  And did I mention that the dressing is one of my favorites in the world?!  Yep, you should definitely make a double batch while you're at it to drizzle on any other meals you're cooking during the week ahead.
Bottom line — I think you're going to love them.  Let's make a batch!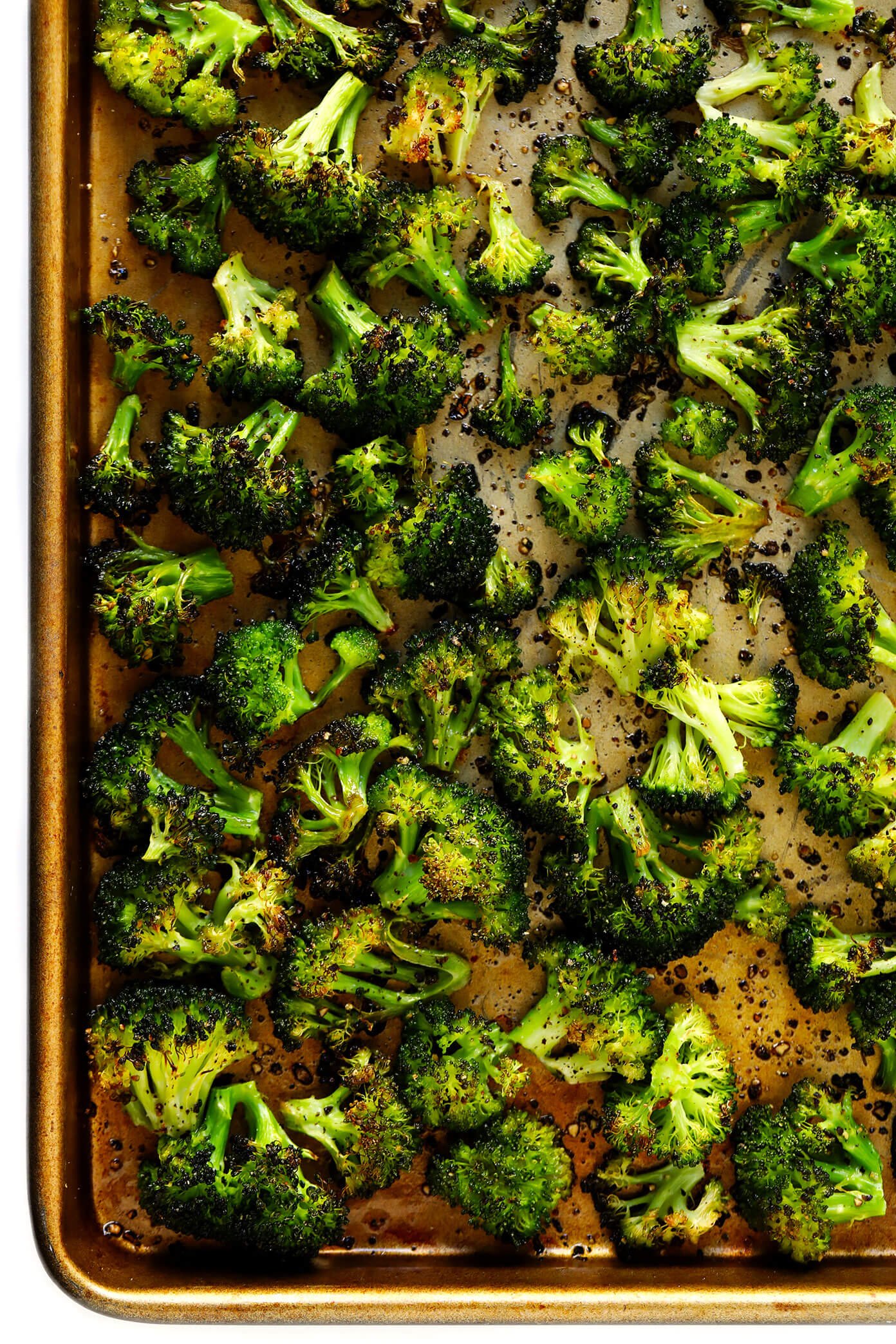 Roasted Broccoli and Farro Salad Ingredients:
Let's talk about the ingredients you will need to make this farro salad!
Farro: This hearty, chewy, whole grain will serve as the base for this salad, cooked in vegetable stock (or chicken stock) for extra flavor.
Broccoli: One small bunch of broccoli, cut into bite-sized florets, which we will then roast.
Arugula: I love the texture and peppery flavor that baby arugula adds to this salad.  But chopped baby spinach, kale or any other hearty greens would be delicious substitutes too.
Chickpeas: Just one can, rinsed and drained.  (Or you're welcome to sub in any other kind of beans you prefer.)
Red Onion: I love the bite of thinly-sliced raw red onion in this salad.  But if you're not into raw onions, you're welcome to roast the onion instead with the broccoli.
Almonds: Or any other nuts/seeds that you enjoy, for a bit of crunch.  (Pepitas, especially, would also be delicious!)
Dreamy Tahini Dressing: One of my all-time favorite salad dressing recipes, made with tahini, lemon juice, garlic, cumin, salt and pepper.  I highly recommend making a double batch so that you will have extra for later! ♡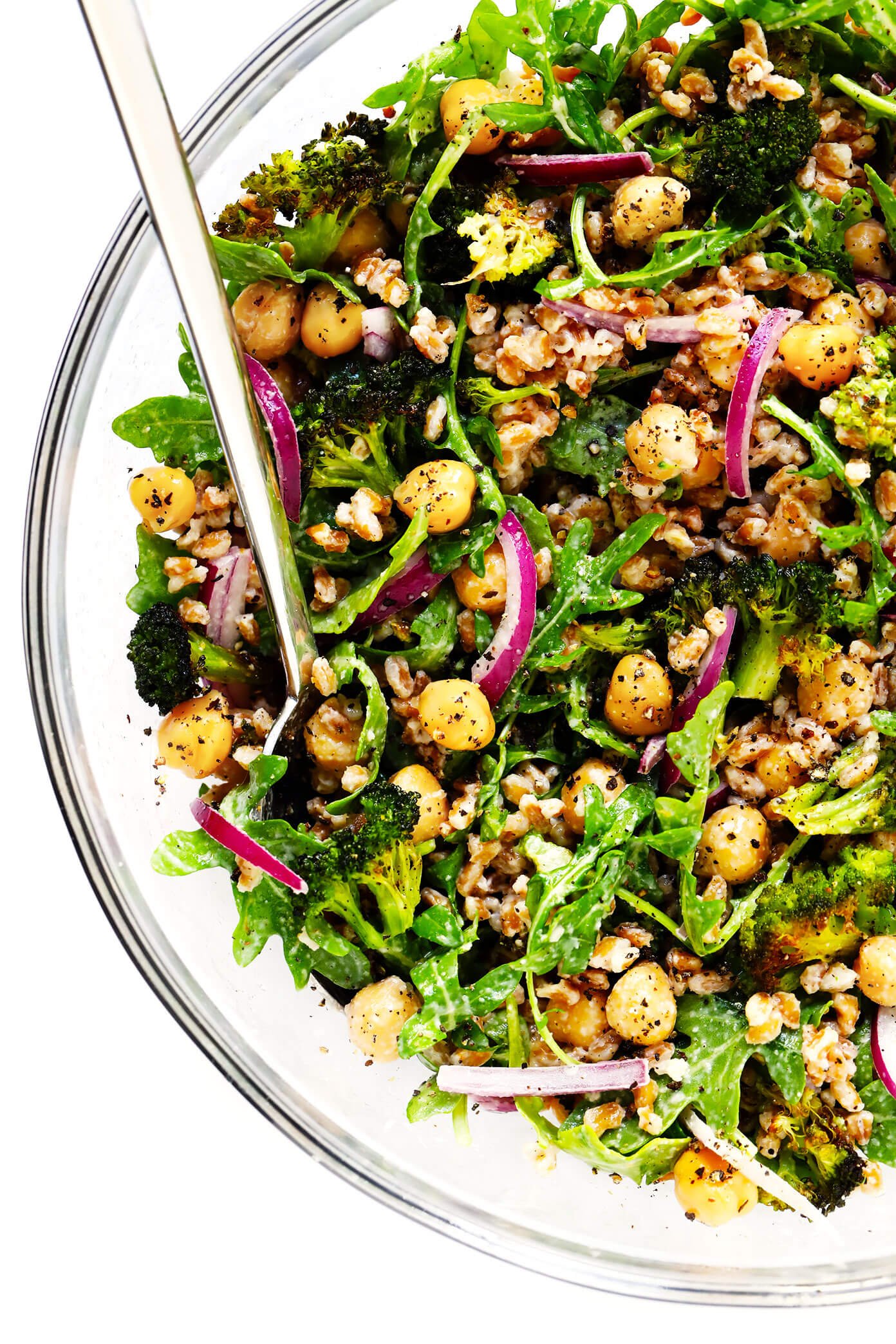 How To Make This Salad:
The beauty of this salad is that it keeps really well in the fridge, so feel free to prep it in advance if you'd like!  To make the salad, simply…
Roast the broccoli.  I detailed how to do this in yesterday's post.  Basically, toss in oil, season with S&P and roast over high heat!
Cook the farro.  On the stovetop, in veggie stock (instead of water) for extra flavor.
Make the dressing.  Whisk all of the ingredients together in a small bowl (or shake together in a mason jar) until combined.
Toss everything together.  Then in a large bowl, combine the broccoli, farro, arugula, chickpeas, almonds and dressing.  Toss to combine.
Serve or refrigerate for later.  Then serve it up immediately, or transfer the salad to a sealed container and refrigerate for up to 3 days.
Full instructions included in the recipe box below.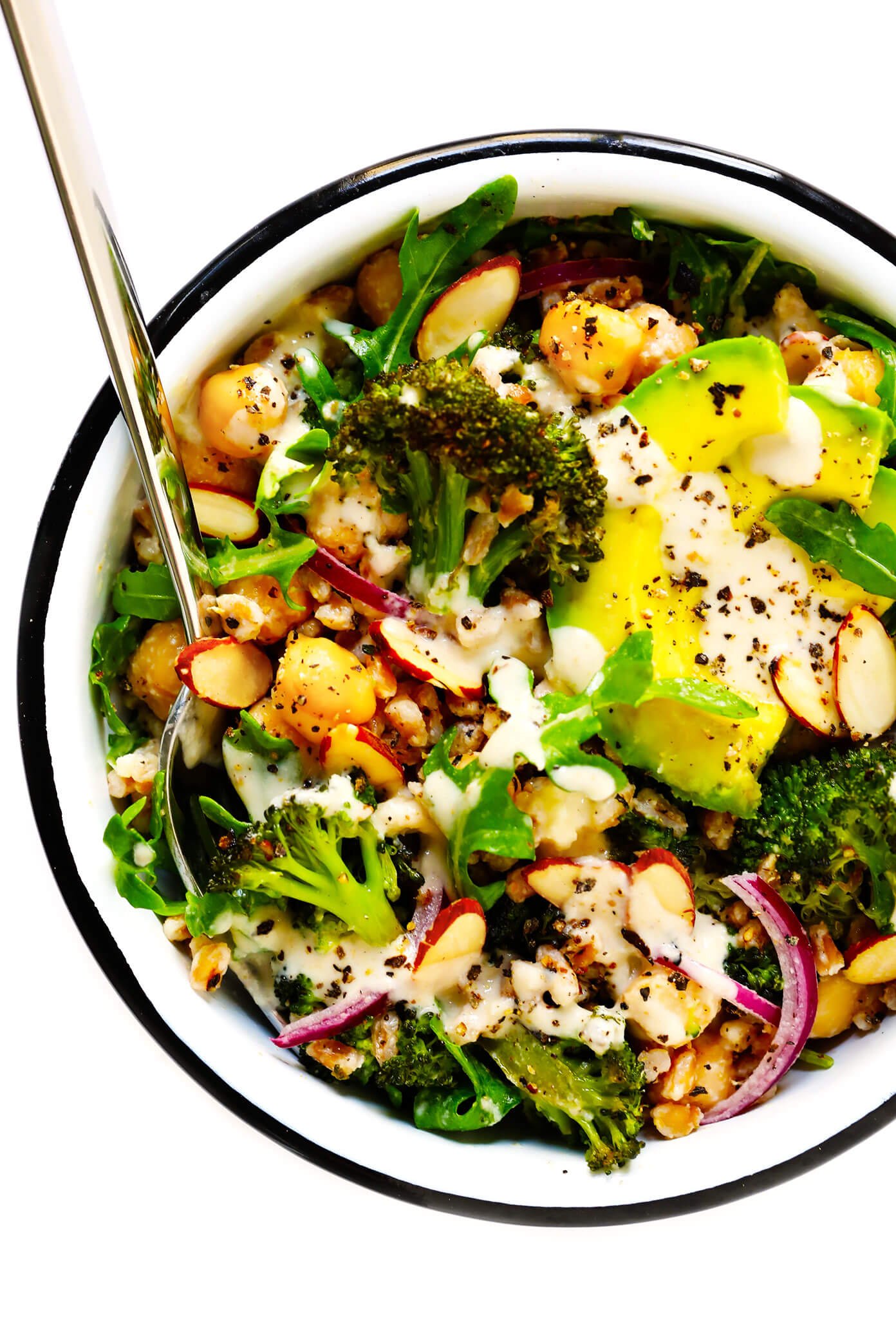 Possible Variations:
Want to customize your farro bowls?  Feel free to…
Add cheese: Feta, goat cheese, or Parmesan cheese would also be great additions to these farro bowls.
Use a different base: Quinoa, brown rice, barley or couscous would all work well in place of the farro.
Use a different green: Chopped spinach or kale would work well in place of the arugula.
Use different nuts/seeds: Walnuts, pecans, pepitas or sunflower seeds would work well in place of the almonds.
Use different (or extra) veggies: Really just about any roasted veggie could work in addition to (or in place of) the roasted broccoli.  So clean out that crisper drawer, and toss whatever you have in the oven!
Roast the chickpeas: If you'd like some extra crunch in your salad, you could also roast the chickpeas along with the broccoli.

---
Scale
Ingredients
3 cup

s vegetable stock

1 cup

farro, rinsed and drained

1

medium head of broccoli, cut into bite-sized florets

2 tablespoon

s olive oil
fine sea salt and freshly-cracked black pepper.

1

batch Dreamy Tahini Dressing

2

large handfuls baby arugula

1

(15-ounce) can chickpeas, rinsed and drained

half of a

medium red onion, thinly sliced

1/3 cup

sliced or slivered almonds, toasted
---
Instructions
Roast the broccoli.  Meanwhile, heat oven to 450°F.  Mist a large baking sheet with cooking spray.  Spread the broccoli florets out evenly on the baking sheet and drizzle evenly with olive oil.  Toss until the florets are evenly coated.  Season with salt and pepper.  Cook for about 15-20* minutes, or until the florets are slightly charred and crispy around the edges.
Cook the farro.  Cook the farro in a medium saucepan in the vegetable stock (instead of water) according to package directions.  Once the farro is al dente, drain off any extra stock.  Set aside.
Prepare the dressing. Whisk all ingredients together until combined.
Combine everything together.  In a large bowl, combine the cooked farro, roasted broccoli, arugula, chickpeas, red onion, and half of the almonds.  Drizzle evenly with the dressing, then toss until combined.
Serve. Serve warm, garnished with the remaining almonds.  Or transfer to a sealed container and refrigerate for up to 3 days.