You only need 6 ingredients to make this fresh and delicious Mango Salsa. Serve with chicken, fish, tortilla chips or use as a topping for tacos!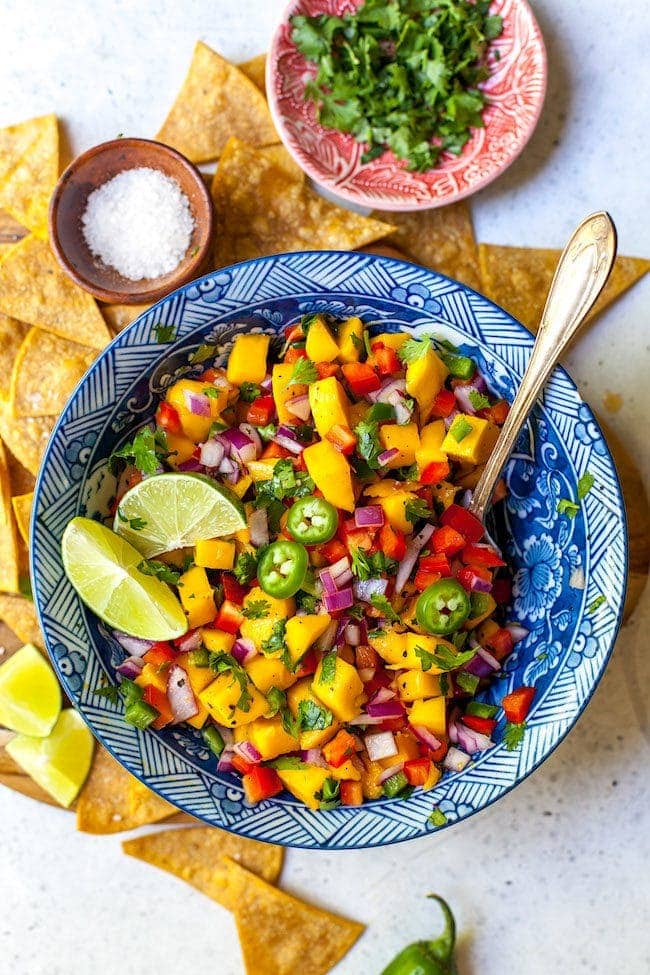 Fresh Mango Salsa
I love making homemade salsa because it is easy, fresh, SO delicious. This homemade mango salsa is really going to blow your mind. It is one of my very favorite salsa recipes. Using fresh mango, bell pepper, onion, and jalapeño, this salsa is the most perfect marriage of spicy and sweet that you'll keep coming back for more of. It's also a really yummy topping for so many of your favorite main dishes, from tacos to chicken or fish…and you better believe it is good with salty tortilla chips, my personal favorite!
How to Cut a Mango
I think the main reason people avoid mango recipes is because choosing and cutting a mango feels a little intimidating. When you're at the store choosing a mango, you'll want to go by touch, not color. A good, ripe mango will give a bit when you squeeze it gently, while a hard mango isn't yet ready to be eaten. To cut a mango:
Locate the stem and make sure it's on top. The pit of the mango runs from that top stem down to the bottom of the fruit!
Cut about a quarter inch away from the center line vertically down the mango, keeping that stem on top. Do this on both sides.
Now you've got two mango halves to work with! At this point you can scoop the flesh out with a spoon, or make cuts that stop at the peel before scooping it out cubed.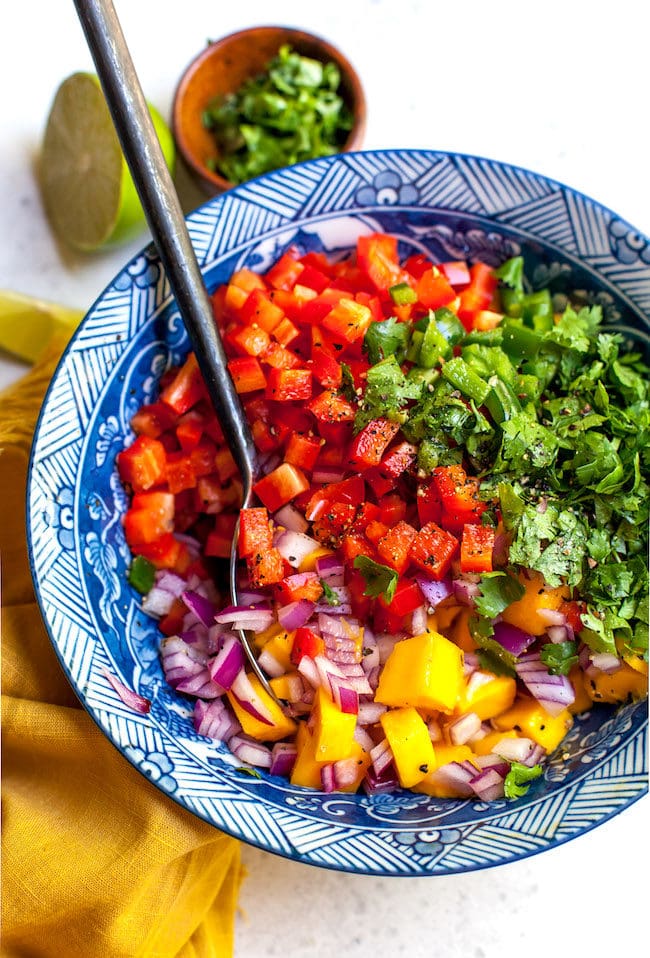 Mango Salsa Ingredients
You only need 6 ingredients to make this vibrant salsa: mango, red bell pepper, red onion, jalapeño, cilantro, and lime juice. Oh, and salt and pepper, but I don't really count those ingredients since they are staples for pretty much every recipe.
How to Make Mango Salsa
Once you've gathered ingredients, and cut your mangoes using my tips, this recipe comes together in no time! Combine all of the fresh ingredients into a medium bowl and stir. Season with salt and pepper. You can eat the salsa immediately, but if you can wait 15 to 30 minutes, the flavors will get even better!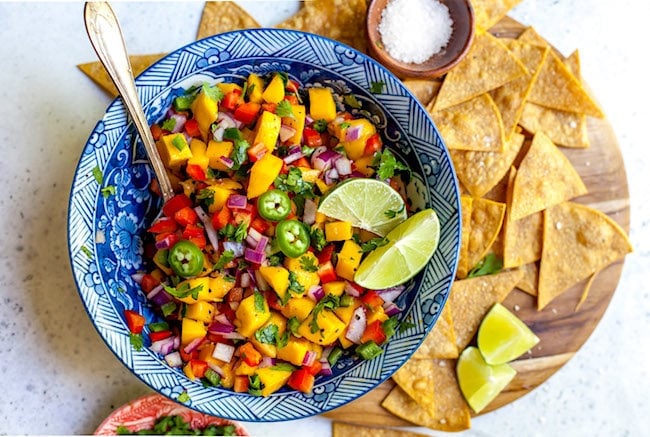 What to Serve with Mango Salsa
Once you've got a delicious, sweet batch of mango salsa in your kitchen, you'll want to start putting it on everything! After preparing, this tasty salsa can be served immediately or stored in the refrigerator for several days. A few suggestions for pairings that will knock your socks off:
Classic tortilla chips and salsa or try pita chips
On fish, chicken, or pork chops
As a topping for tacos, quesadillas, or burritos
More Salsa Recipes:
If you enjoy making homemade salsa, I've got a wide variety of recipes for you to try!
3




medium ripe mangos,




peeled, pitted, and diced

1




red bell pepper,




diced

1/3




cup




diced red onion

1




jalapeno,




seeded and minced

1/4




cup




chopped cilantro

Juice of 1 lime

Salt and pepper,




to taste
In a medium bowl, combine the mango, red pepper, red onion, jalapeno, cilantro, and lime juice. Season with salt and pepper, to taste. Serve immediately or chill until ready to use.
Nutrition Facts
Mango Salsa
Amount Per Serving
Calories 90
Calories from Fat 9
% Daily Value*
Total Fat 1g
2%
Saturated Fat 1g
5%
Sodium 4mg
0%
Potassium 290mg
8%
Total Carbohydrates 22g
7%
Dietary Fiber 3g
12%
Sugars 19g
Protein 2g
4%
Vitamin A
47.5%
Vitamin C
107.2%
Calcium
1.7%
Iron
1.8%
* Percent Daily Values are based on a 2000 calorie diet.
Keywords
easy, gluten free, vegan
Photos by Dishing Out Health