These Vanilla Cupcakes will easily become your go-to cupcake recipe! This simple and sweet dessert, made completely from scratch using the reverse creaming method, is the best vanilla cupcake you will ever taste! These soft, light, and buttery cupcakes topped with a swirl of buttercream are guaranteed to be your new favorite too!
Today we're taking it back to basics! This vanilla cupcake recipe is one I shared many years ago, back in 2013 but I thought needed an update. The recipe remains the same, but I wanted to include some more tips and tricks for ultimate cupcake success. PLUS, I felt like they needed some pretty new pictures!
Everyone Needs a Vanilla Cupcake Recipe That Always Turns Out Perfect!
A classic vanilla cupcake might seem like a basic or no-brainer type of recipe to bake, but I will tell you that it took me many years to perfect! There was a lot of trial and error that went into this recipe to get the texture moist, light, and soft! So many recipes I have tried in the past have been too dense, or too dry, or too too oily. But this one is soft, buttery, and light in texture with the perfect dome.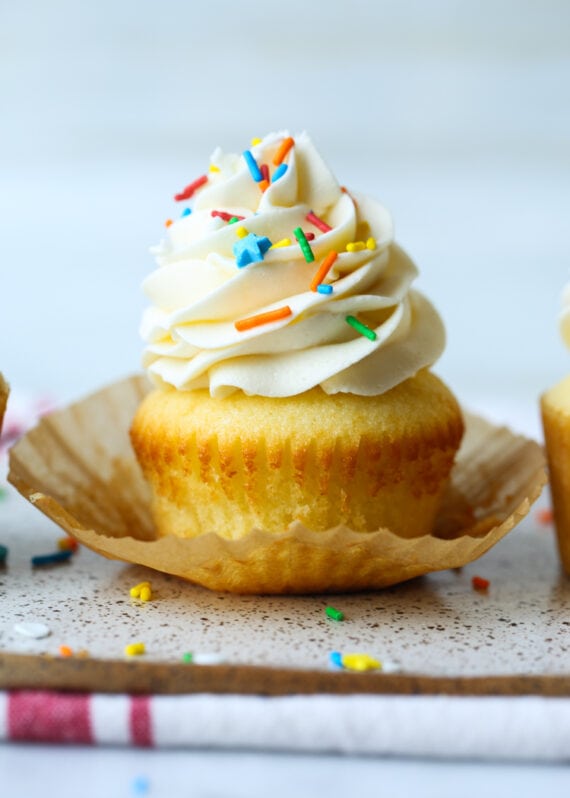 How To Make The Best Vanilla Cupcakes
The trick I use in this cupcake recipe is the Reverse Creaming Method. I have used this in a few other recipes on my site, like my Confetti Cupcakes and LOVE how they turn out. Reverse creaming produces an ultra-fine crumb, which makes these cupcakes super tender!
What Is Reverse Creaming?
Reverse Creaming is when you mix the butter into the dry ingredients before mixing in the remaining ingredients and liquids. Generally when you bake a cake you cream the butter and sugar together to start and then add the dry ingredients in alternating additions with the wet.
Reverse creaming evenly combines the butter into the dry ingredients creating a coarse sand texture, coating all the dry ingredients with fat, and then add in the remaining ingredients. We're always told when making cake batter NOT TO OVER MIX! because over-mixing batter can cause more gluten to form, creating a denser, less light and airy cake. BUT reverse creaming coats the flour in fat which minimizes gluten formation. This also creates smaller air particles being formed in the mixing, producing a finer crumb, and a perfect dome.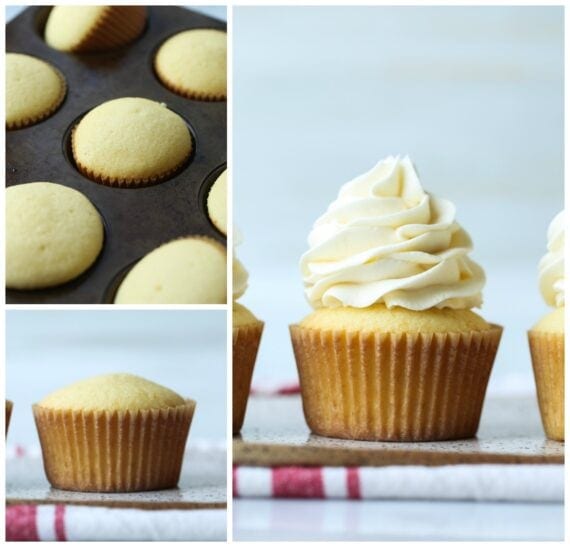 How To Make The Best Vanilla Cupcakes
Let's get started, the process is super easy, but just make sure to follow a few quick steps to ensure perfection!
Use room temperature butter cut into cubes. This allows the butter to mix into the dry ingredients easily and efficiently without large clumps!
Place all your dry ingredients into the bowl of your stand mixer and turn the mixer onto low and mix for 1 minute. This essentially does the same thing as whisking or sifting the dry ingredients, only easier!
When you mix the butter in, start with a few cubes at a time. Bu the time it's all mixed in you will want it to look like Parmesan Cheese!
After you add your wet ingredients to the dry make sure you scrape the sides and bottom of the bowl so you make sure you get everything mixed in evenly.
When you fill your liners with the batter, fill them 2/3 full, which is about 1/4 cup. I use a measuring cup, or a large scoop to portion it out to ensure every liner is filled exactly the same.
Bake them until the domes have formed and they are set!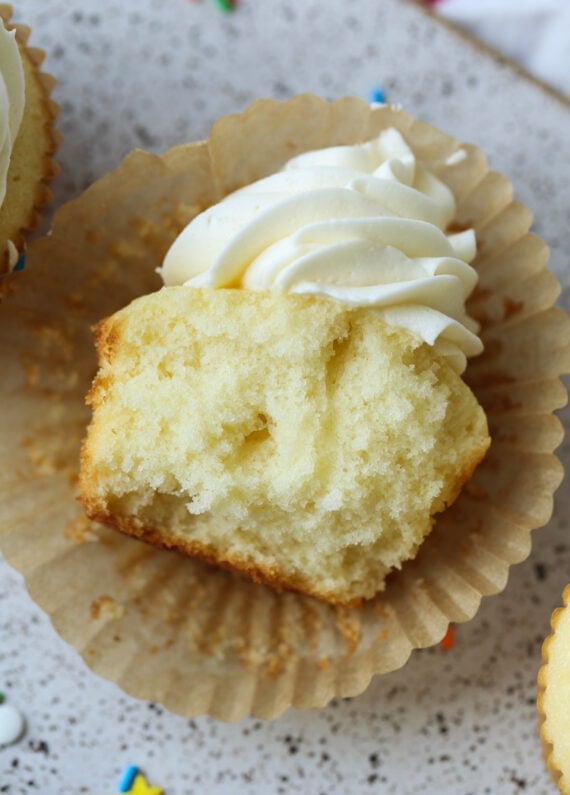 What Frosting Recipe Should I Use On Vanilla Cupcakes?
Feel free to get creative with your frosting. I used a Wilton 1M tip for the swirls in these photos, and it's my go-to piping tip! And of course don't forget the sprinkles!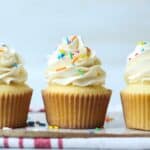 My Favorite Vanilla Cupcakes
---
Description
This vanilla cupcake recipe is easy, soft, and moist! The perfect birthday cupcake topped with a tall swirl of frosting!
---
Ingredients
1 3/4 cup

cake flour

1 1/4 cup

all purpose flour

1 3/4 cup

sugar

2 1/2 teaspoon

s baking powder

1 teaspoon

s kosher salt

1 cup

butter, room temperature, cut into

1/2

inch cubes

4

eggs

1 cup

milk

2 teaspoon

s vanilla
---
Instructions
Preheat oven to 350°F. Line muffin tin with cupcake liners and set aside.

In the bowl of a stand mixer fitted with the paddle attachment add the cake flour, all purpose flour, sugar, baking powder, and salt and stir together using paddle attachment for 1 minute on low speed.
With mixer still on low, drop in butter, a few cubes at a time, continuing until all butter is in and mixer resembles coarse sand.
Add eggs one at a time on low speed until combined.
With mixer still on low slowly pour in milk and vanilla. Turn the mixer to medium and beat for 2 minutes until batter is smooth, scraping sides of bowl as necessary, making sure batter is well combined.
Fill liners 2/3 full (about 1/4 cup batter) and bake for 15-20 minutes until centers are set and toothpick comes out clean.
Allow to cool completely before frosting.
---
Notes
Store airtight at room temperature for up to 3 days.
Keywords: cookies and cups, vanilla cupcake recipe, best vanilla cupcake recipe, cupcake recipe, buttercream