The first time I tried a sweet, vinegary cucumber salad, I was hooked. The cool, crisp cucumbers burst with tangy flavor, onion added just the right amount of bite, and a sprinkle of dill gave it an addictive, pickle-like taste. When English cucumbers started popping up at the farmers' market this summer, I immediately thought of that first bite of cucumber salad, and I knew that I wanted to make a version to share with all of you.
This cucumber salad recipe is the quintessential summer dish. Like all the best summer recipes, it requires just a few ingredients to pack a big punch of flavor. It's delectably salty & sweet, and the chilled cucumbers and onions are super refreshing on hot summer days. It takes just 15 minutes to make (including 10 minutes of hands-off chill time), so toss it together and enjoy it as a dinner side or – like me – eat it straight out of the bowl!
Cucumber Salad Recipe Ingredients
The best thing about this bright, fresh, addictive cucumber salad recipe is that it requires just 8 ingredients:
English cucumber! I use a mandoline to get my slices nice & thin.
Red onion. The thinner these guys are the better, so if you have a mandoline, use it for the onion as well as the cucumber.
Rice vinegar, sesame oil & honey combine to make a light, sweet & savory dressing for the crisp veggies.
Dill & mint. This combo adds delicious freshness to the cool cucumbers and onions.
Pickled mustard seeds. I list these as optional, but I highly recommend using them. Their flavor is a great complement to the dill, and they add tangy complexity to this super simple cucumber salad.
Add a sprinkle of sea salt, and you've got everything you need!

How to Make Cucumber Salad
This cucumber salad recipe is easy to toss together. Here's all you need to do:
First, add the sliced English cucumbers and onion to a large bowl along with the honey, rice vinegar, sesame oil, salt, and fresh dill. Toss it all together and put the bowl in the fridge to chill for 10 minutes.
After the mixture has chilled, transfer it to a serving dish, leaving behind any excess liquid.
Top the cucumber onion salad with fresh mint leaves and pickled mustard seeds, if you're using them.
Season to taste and enjoy!

What to Serve with Cucumber Onion Salad
I have a hard time not gobbling up this salad as soon as I toss it together. On the days when it makes it to the dinner table, we love this recipe as a side dish with classic summer picnic fare like veggie burgers, black bean burgers, BBQ sandwiches, portobello mushroom burgers, and corn on the cob. It's also delicious served with grilled vegetable kabobs and generous dollops of tzatziki.
The sweet rice vinegar & sesame oil dressing makes this cucumber salad recipe a great pairing with Asian flavors as well. Try it as a side with soba noodles, crispy tofu, or banh mi sandwiches. Add a scoop to a watermelon poké bowl, or pair it with sushi, spring rolls, or summer rolls to make a light meal.

If you love this cucumber salad recipe…
Try my watermelon salad, orzo salad, broccoli salad, Greek salad, or pasta salad next, or head to this post to see more of my favorite summer salad recipes!
Cucumber Salad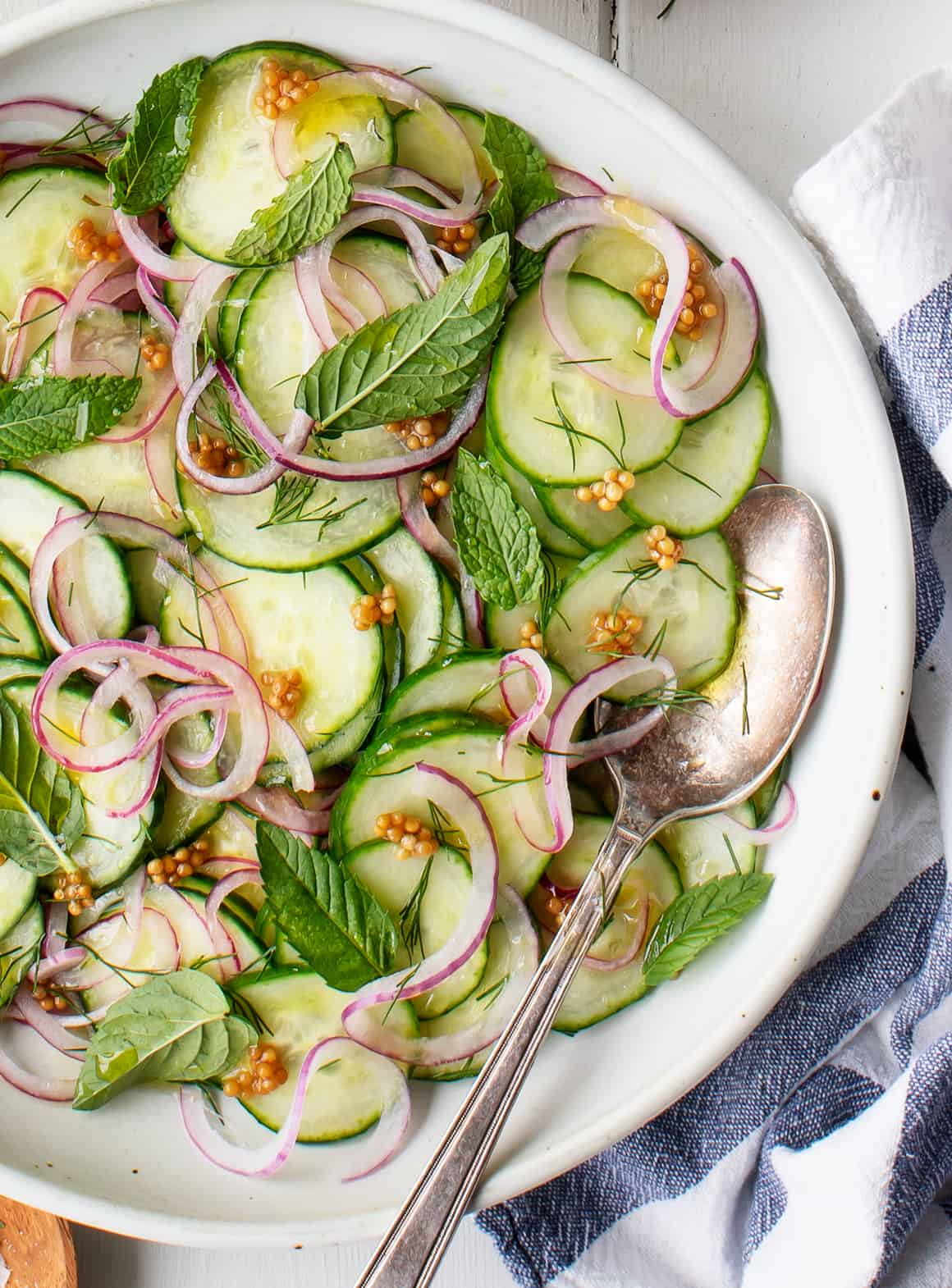 Author: Jeanine Donofrio
Recipe type: Side dish
2 tablespoons rice vinegar
½ tablespoon agave nectar or honey
1 English cucumber, thinly sliced into rounds
⅓ cup thinly sliced red onions
½ teaspoon sea salt
¼ teaspoon toasted sesame oil
1 tablespoon chopped dill
1 tablespoon fresh mint leaves
Pickled mustard seeds, optional (recipe below)
Extra-virgin olive oil, for drizzling, optional
In a large bowl, combine the vinegar, agave nectar, cucumber, onion, salt, sesame oil, and dill. Toss to coat and chill for 10 minutes. Transfer to a serving bowl, leaving some of the excess water behind. Top with fresh mint, dollops of pickled mustard seeds, if using, and a drizzle of olive oil, if desired. Season to taste and serve.
Pickled Mustard Seeds
½ cup apple cider vinegar
½ cup water
3 tablespoons cane sugar
½ teaspoon salt
⅓ cup yellow mustard seeds
Combine the vinegar, water, sugar, and salt in a small pot over medium heat. Bring to a simmer, stir in mustard seeds, reduce the heat, and cook over low heat for 30 minutes or until the mustard seeds are plump.
Remove from the heat and let cool to room temperature. Store in the refrigerator.
3.4.3177