These Greek Salmon Salad Bowls are packed with delicious, feel-good ingredients and easy to make in just 20 minutes!
Barclay and I have been making classic Greek salads on repeat this summer, especially now that all of those colorful fresh bell peppers, red onions and cucumbers are back in season.  (Yum, yum, and yum.)  But lately, we've gotten on this kick of adding some zesty pan-seared salmon, creamy avocado, and peppery arugula into the mix as well, in order to transform our usual side salad into more of a hearty entrée.
And guys, we are hooked. ♡
I owe the inspiration for this one to my Insta-friend, Amy from VeggieBellie, who recently posted about a Greek salad she made with flaky tuna and arugula.  It looked so good that I instantly went out to shop for the ingredients to make one for myself for lunch.  But our little neighborhood market only happened to be carrying salmon that day.  So I brought it home and gave it a quick pan-sear on the stove (because who wants to turn on the oven in August), diced up a big ripe avocado to add in (because what salad isn't better with some avo), and dressed everything as the Greeks do with just a quick drizzle of olive oil and vinegar (because isn't that really all we ever need anyway?!).  And in less than 20 minutes, this gorgeous, hearty, healthy salad was ready for lunch.  And we loved it — ha, so much so that we've continued to make it a half dozen times since!
We've discovered that if we tag-team this one — with me on salmon duty while Barc chops the veggies — it can literally be ready to go in less than 10 minutes.  And as delicious as it is with warm salmon fresh outta the skillet, we've found that the leftovers hold up great in the fridge, making this salad a great healthy meal prep recipe as well.
Bottom line, it's delicious and I have a good feeling you're going to get hooked on this one too.  Let's make some salad!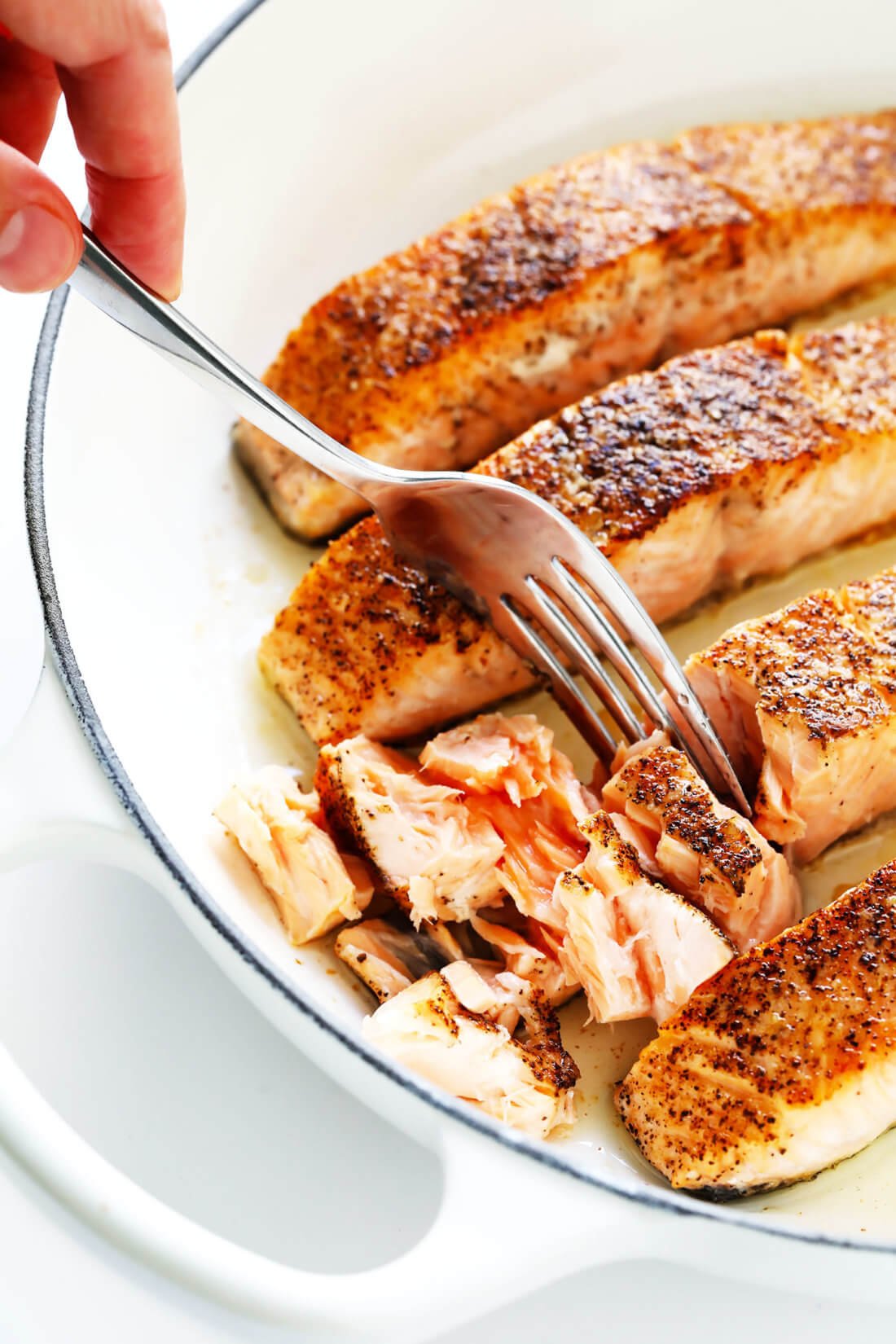 Greek Salmon Salad Bowls Ingredients:
Alright, a few quick ingredient notes before we get to the recipe!  To make these Greek salmon salad bowls, you will need:
Salmon: Any type of good-quality salmon filets that you prefer, which we will season with salt and pepper and cook in olive oil.
Avocado: ♡♡♡
Arugula: I love the peppery flavor and hearty texture of arugula in this salad.  But any greens that you love would work!
Veggies: Keeping with the Greek salad classics, we will use bell pepper, cucumber, red onion and (optional) tomatoes.
Feta (optional): Feel free to leave this out if you're avoiding dairy.  But I love the cool, creamy, tangy touch that it adds.
Oil and vinegar: To keep things simple, I just dress this salad with a drizzle of olive oil and red wine vinegar (plus a pinch of dried oregano and salt) to taste.  Or, if you would like a bit more flavor, you're welcome to use the garlicky Greek dressing from this recipe.
See notes below for a few extra ingredients that you might want to toss in too. ♡
How To Make Greek Salmon Salad Bowls:
To make this Greek salmon salad recipe, simply…
Pan-sear the salmon.  I keep things simple and just season the salmon filets with S&P, then sear in olive oil until golden and crispy on both sides.  (See full instructions below.)  Meanwhile, as the salmon is doing its thing…
Prep the dressing.  Add all ingredients to a small bowl and whisk until combined.  (Or my preference — add to a mason jar, cover with the lid, and shake-shake-shake until combined.)
Chop your veggies. We're going for bite-sized pieces with the bell pepper, red onion, cucumber and avocado, please.
Toss everything together.  Then combine the salmon (you can leave the skin behind, if you'd like), veggies, arugula and dressing together in a large mixing bowl.  Then toss until evenly combined.
Serve.  Garnished with crumbled feta, if you would like.
Or, if you are planning to prep this recipe in advance, cover and refrigerate for up to 2 days.  (I would recommend waiting to add the avocado just before serving, so that it does not turn brown.)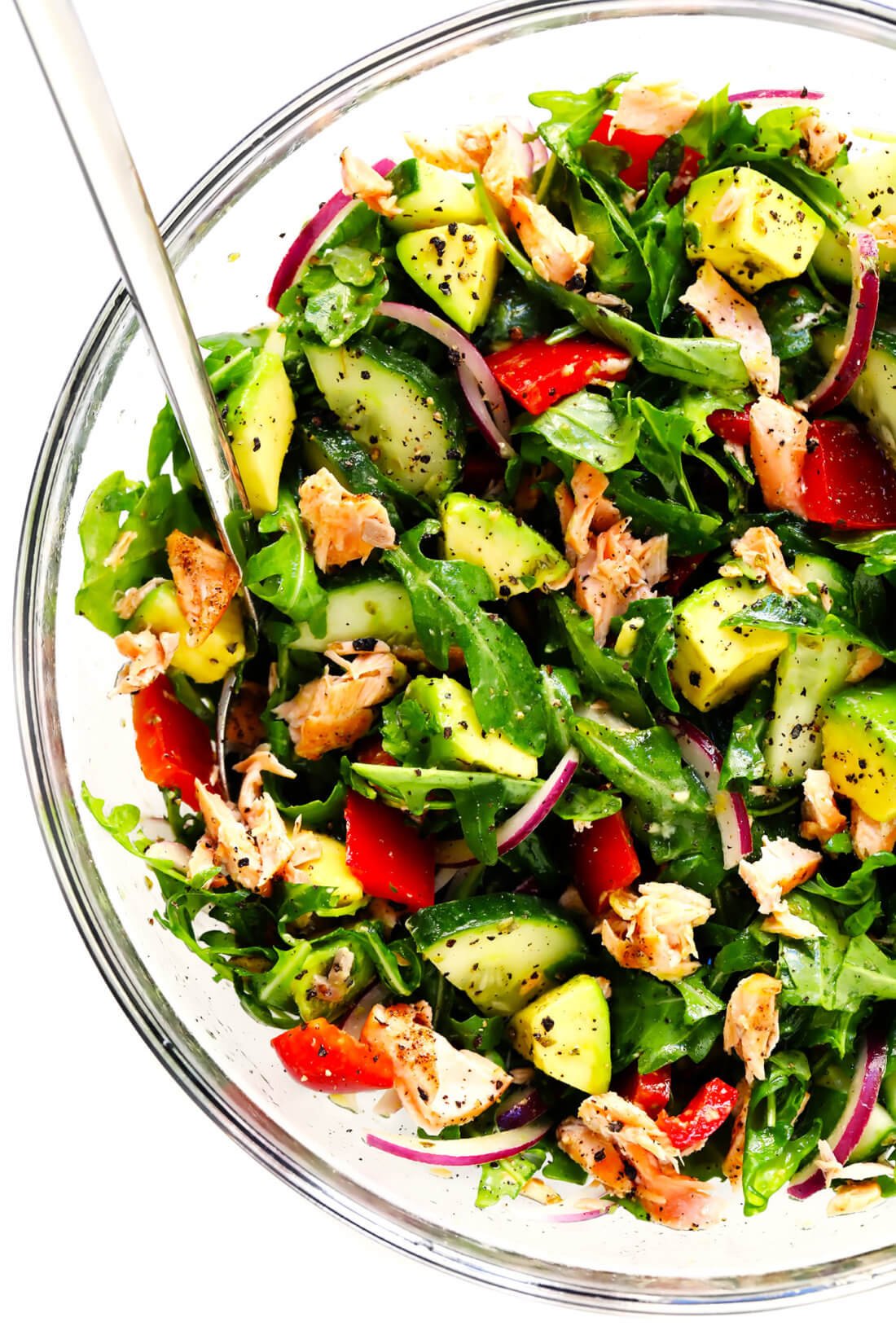 Possible Variations:
Want to customize your Greek salmon salad bowls a bit?  Feel free to…
Add extra seasonings to the salmon: I usually just stick with salt and pepper to keep things simple.  But feel free to add any extra herb blends or seasonings to the salmon that you prefer.
Bake (instead of pan-sear) the salmon: Here's my favorite method for cooking salmon in the oven.
Use a different protein: If salmon isn't your thing, feel free to add in any other kind of flaky fish that you love.  Chicken or shrimp would also be delicious too!
Add tomatoes: Fresh cherry or grape tomatoes or sun-dried tomatoes would be delicious.
Add olives: Kalamatas are always a classic in a good Greek salad!  We often add in a handful.
Add nuts/seeds: Pine nuts, pepitas, sunflower seeds, or any other favorite nuts/seeds would be delicious.
Add chickpeas: Canned or roasted chickpeas would be great for some extra protein.
Add pasta: Feel free to add some pasta to turn this into a salmon pasta salad too!  It's a great way to mix things up if you have leftovers.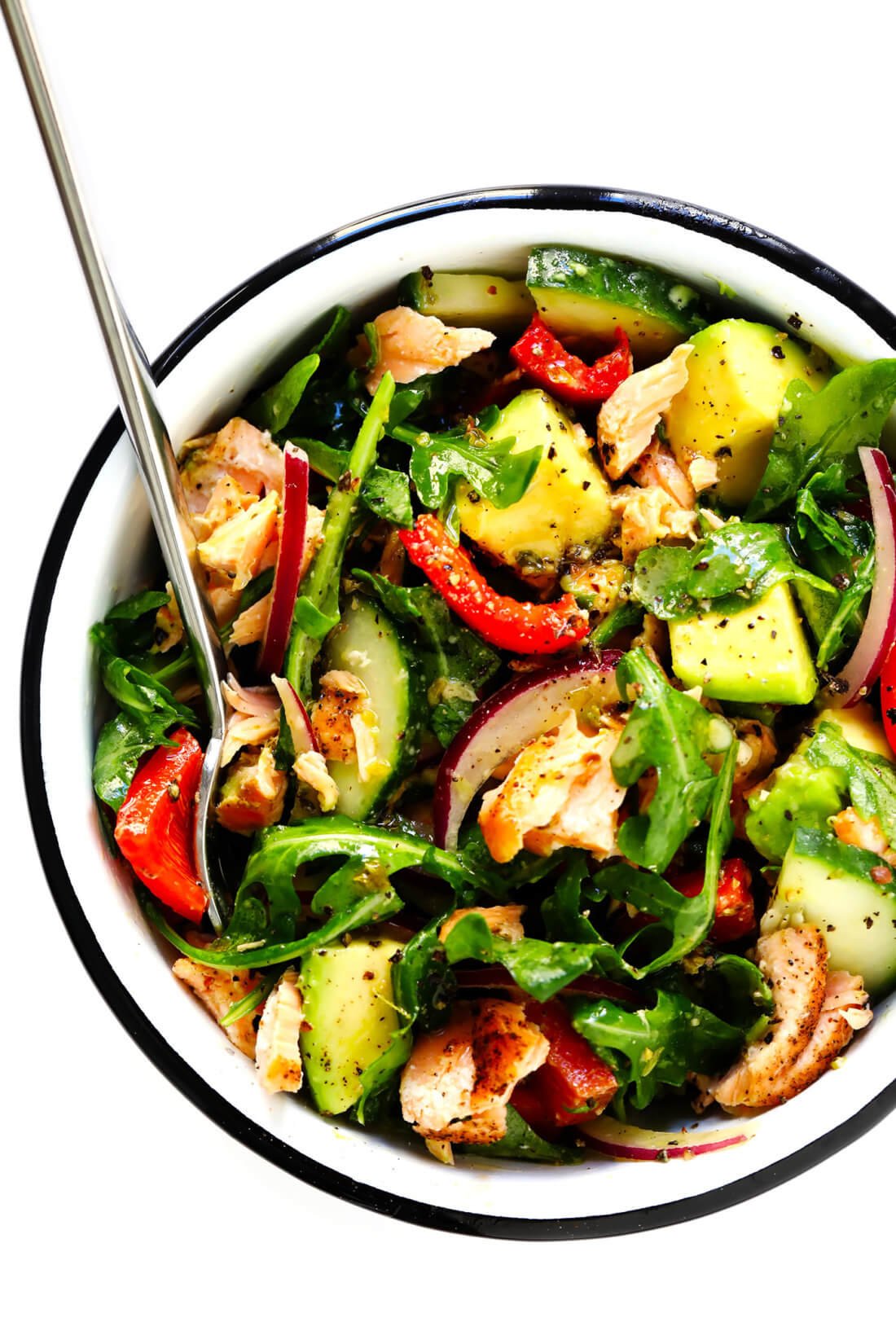 More Favorite Salad Recipes:
Here are some more favorites that you are welcome to serve as side salads, or gussy up (just like we did here) as an entrée: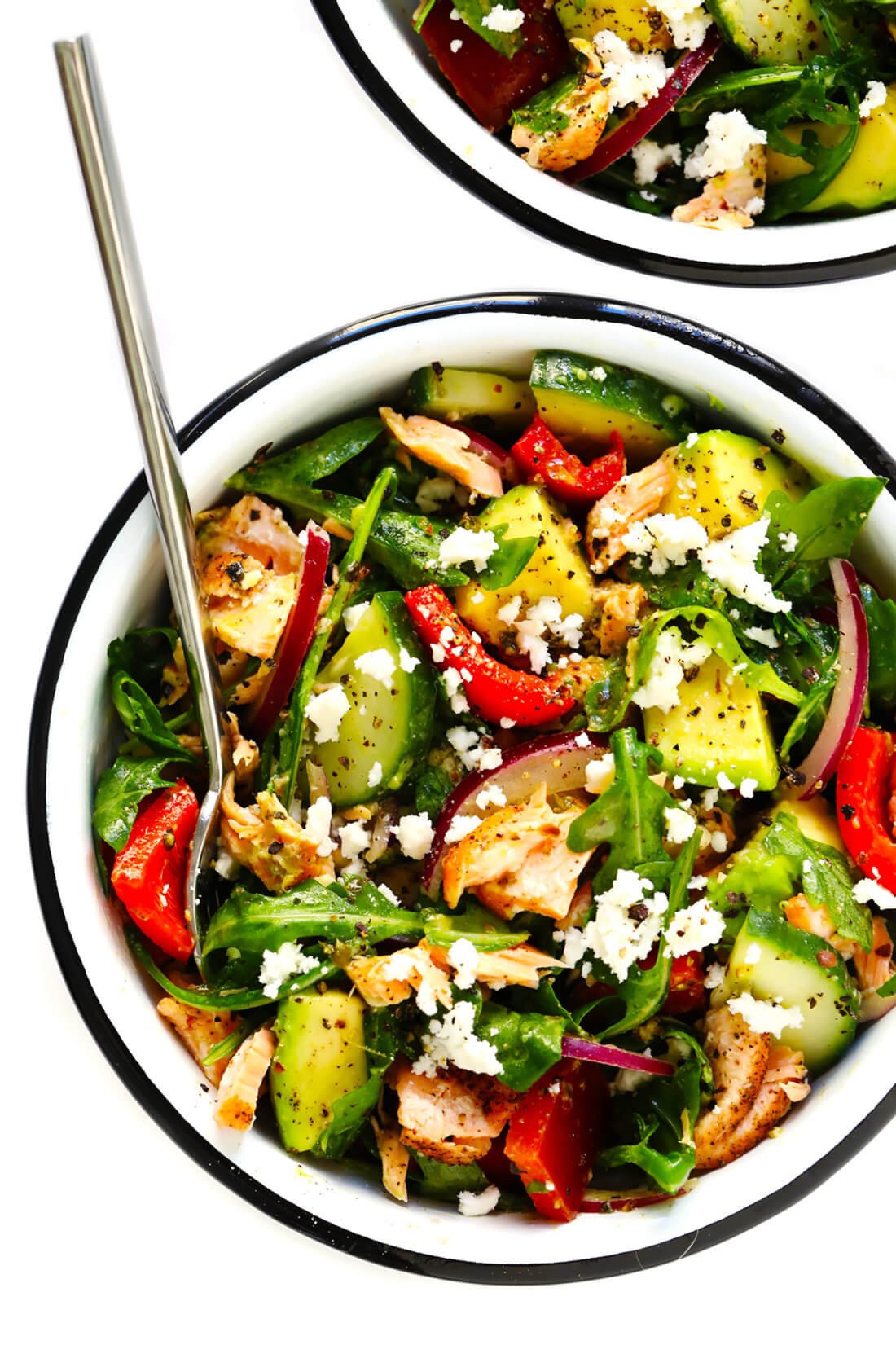 ---
Scale
Ingredients
1

pound salmon filets*, room temperature
fine sea salt and freshly-cracked black pepper

2 tablespoon

s olive oil

2

large handfuls baby arugula

1

avocado*, peeled, pitted and chopped into bite-sized pieces

1

large red bell pepper, cored and chopped into bite-sized pieces

1

small red onion, peeled and thinly sliced

half of an

English cucumber, chopped into bite-sized pieces
olive oil and red wine vinegar, for dressing
optional toppings: crumbled feta cheese and dried oregano
---
Instructions
Gently pat the salmon filets dry with paper towels, then season on all sides with salt and pepper.
Heat the olive oil in a large non-stick sauté pan.  Place the salmon filets flesh-side down, pressing the flesh down a bit if needed so that the entire surface is touching the pan.  Cook undisturbed for about 3-4 minutes, or until golden.  Carefully flip and cook the other side for about 2-4 more minutes, until the salmon reaches your desired level of doneness and flakes easily with a fork.  Transfer salmon to a separate plate and set aside.
In a large bowl, combine the cooked salmon, arugula, avocado, bell pepper, onion and cucumber.  Drizzle with a few swirls of olive oil and red wine vinegar, plus a few pinches of dried oregano if desired, and toss until combined.
Taste and season with extra salt and pepper (plus any extra oil, vinegar and/or oregano), if needed.
Serve immediately, garnished with feta cheese and extra oregano if desired.  Or transfer to a sealed container and refrigerate for up to 2 days.
---
Notes
*Salmon: Feel free to use salmon with or without skin.  Cooking time will vary according to the thickness of your filets.
*Avocado: If prepping this salad in advance, I recommend waiting to add the avocado until just before serving so that it does not brown in the fridge.