You will never know these rich and decadent chocolate zucchini muffins are made with healthy ingredients. Enjoy for breakfast, snack time, or dessert!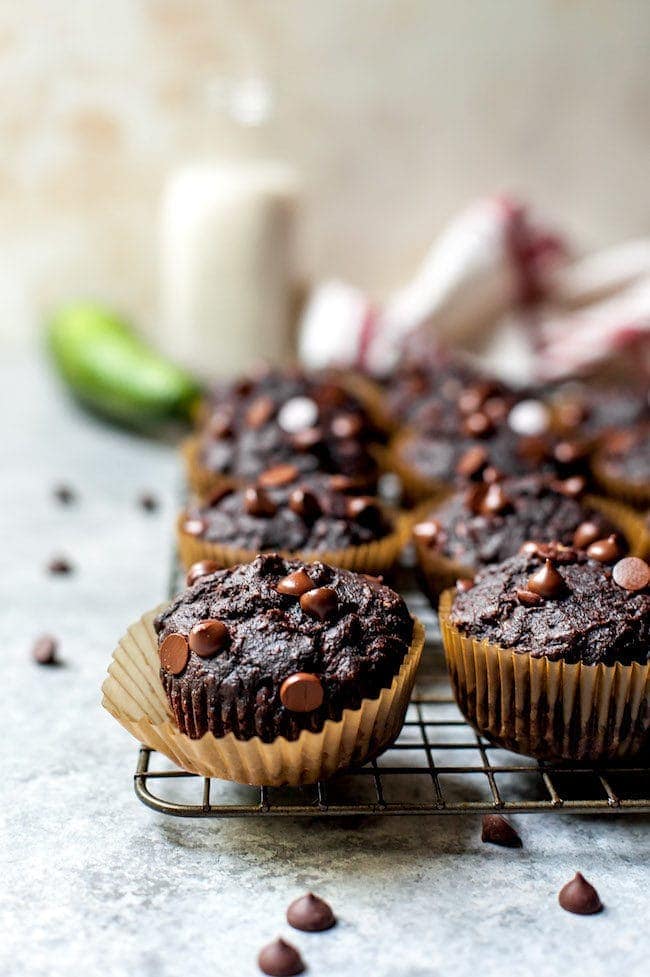 Healthy Chocolate Zucchini Muffins
I love zucchini season because I love making zucchini EVERYTHING! Zucchini bread, zucchini cake, zucchini brownies, zucchini pancakes…and the list goes on. You can check out my favorite zucchini recipes here, there are lots of zucchini recipes to choose from, sweet and savory! I usually go sweet and that is the problem. I have been baking up too many loaves of chocolate zucchini bread this month. It's just so good. I can't help myself. Well, I decided it was time to make a healthier chocolate zucchini treat…and now you are in for a real treat because they are delicious and I am sharing the recipe TODAY!
These Healthy Chocolate Zucchini Muffins will make you want to jump out of bed so you can eat chocolate for breakfast. They are a great breakfast treat…or you can enjoy them as a snack, or dessert because they basically taste like a chocolate cupcake, but they are healthy-ish! I love them, my kids love them, and I think you will love them too.
Chocolate Zucchini Muffin Ingredients
These chocolate zucchini muffins are made with healthy ingredients, but you will never know it because they are so rich and decadent. You will need the following ingredients:
White whole wheat flour-you can use whole wheat pastry flour or all-purpose gluten-free flour if you need the muffins to be gluten-free.
Unsweetened cocoa powder-use a high quality brand of cocoa for the best chocolate flavor.
Baking powder, baking soda, and salt-baking staples that you probably have in your pantry!
Unsweetened vanilla almond milk-I love using almond milk, but you can also use buttermilk if you don't need the recipe to be vegan.
Coconut oil-measure the coconut oil when it's at room temperature, then melt it in the microwave. Let cool for about 5 minutes before using.
Pure maple syrup-I use pure maple syrup because it is a natural, unrefined sugar. The flavor is great too! You can use honey, if you don't need the recipe to be vegan.
Large egg-if you need the recipe to be vegan, use a flax egg.
Vanilla extract-always use pure vanilla extract. I know it is pricey but so worth it!
Zucchini-the star of the show! You will need 2 cups of shredded zucchini (2 small zucchinis or one large zucchini). Don't squeeze out the liquid or your muffins will be dry! The muffins need the moisture from the zucchini.
Chocolate chips-I use Enjoy Life Dark Chocolate Chips for this recipe because they are vegan, gluten-free and made with unrefined sugar. They taste good too, I promise:)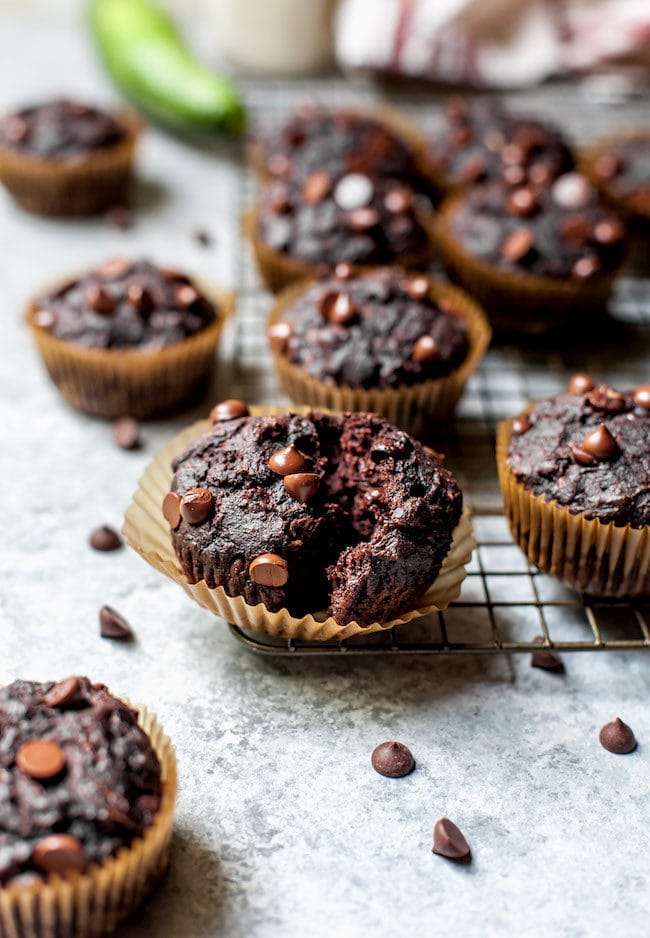 Double Chocolate Zucchini Muffins
Double the chocolate, double the fun, right? You will go crazy for these over the top chocolate muffins. The cocoa powder and chocolate chips team up to create the BEST chocolate muffin! The zucchini keeps the muffins super moist, but you really won't know you are eating a muffin packed with a vegetable because all you will taste is chocolate goodness!
The muffins are good out of the oven, but I highly recommend you let the muffins cool and sit for a few hours or if you want to make them the day before enjoying, even better. The muffins get even more rich and chocolaty as they sit. I promise, they are worth the wait, you will see what I am talking about if you are patient. And the added bonus? This is a great recipe to make in advance. Make the muffins the night before so you can roll out of bed and enjoy a chocolate zucchini muffin for breakfast! WINNING!
You can freeze the chocolate zucchini muffins. Cool completely and place muffins in a freezer bag or container. Freeze for up to 2 months. Defrost on the counter or reheat in the microwave for 20 to 30 seconds.
More Muffin Recipes: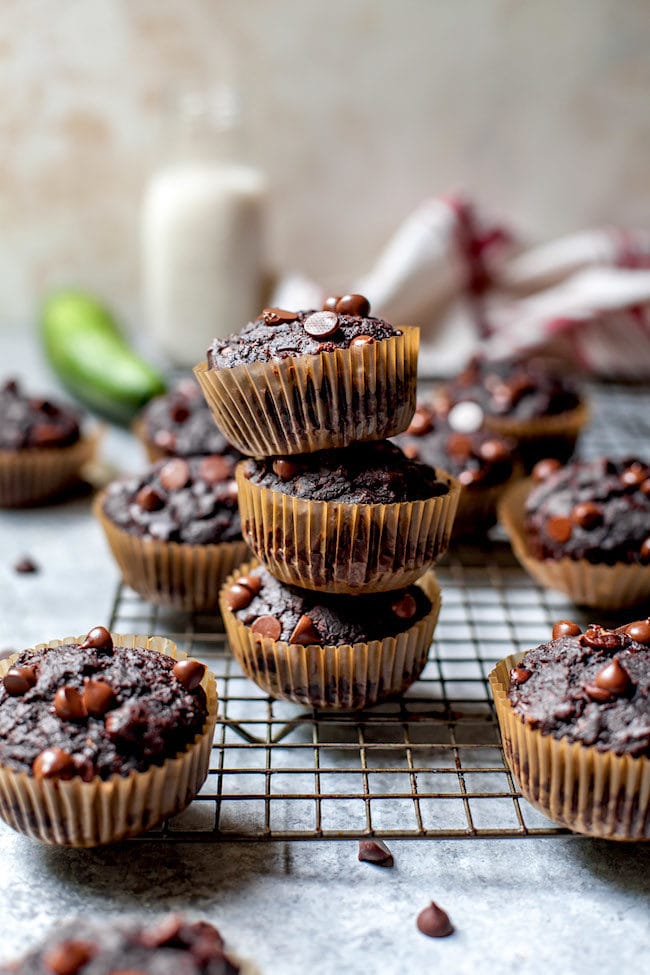 1 1/2




cups


white whole wheat flour

1/3




cup




unsweetened cocoa powder

1




teaspoon




baking soda

1/2




teaspoon




baking powder

1/4




teaspoon




salt

1/3




cup




unsweetened vanilla almond milk

1/4




cup




coconut oil,




melted and cooled

1/3




cup




pure maple syrup

1




large egg




(or flax egg)

1




teaspoon




vanilla extract

2




cups




shredded zucchini

3/4




cup


chocolate chips,


divided (I use Enjoy Life)
Preheat oven to 350 degrees Line muffin tin with paper liners or spray with cooking spray. Set aside.

2In a medium, whisk together flour, cocoa powder, baking soda, baking powder, and salt. Set aside.

In a large bowl, stir together almond milk, coconut oil, maple syrup, egg, and vanilla extract. Stir in the shredded zucchini until well combined.

Add the dry ingredients to the zucchini mixture and stir until just combined, don't over mix. Stir in 1/2 cup of the chocolate chips.

Divide batter evenly into prepared muffin cups. Sprinkle remaining chocolate chips over the tops of each muffin. Bake for 20-24 minutes or until a toothpick inserted in the center of a muffin comes out mostly clean. It's ok if there is a little chocolate from the chocolate chips. The muffins should be set on top and bounce back when lightly touched. Remove from oven and let cool for 10 minutes before serving. Enjoy!
If you need the muffins to be gluten-free you can use all-purpose gluten-free flour. I think the muffins are even better the second day! The muffins freeze well! To reheat, place frozen muffins in microwave for 20-30 seconds.
Nutrition Facts
Healthy Chocolate Zucchini Muffins
Amount Per Serving
Calories 186
Calories from Fat 81
% Daily Value*
Total Fat 9g
14%
Saturated Fat 7g
35%
Cholesterol 14mg
5%
Sodium 157mg
7%
Potassium 149mg
4%
Total Carbohydrates 26g
9%
Dietary Fiber 3g
12%
Sugars 11g
Protein 4g
8%
Vitamin A
1.2%
Vitamin C
4.5%
Calcium
5.8%
Iron
9.1%
* Percent Daily Values are based on a 2000 calorie diet.
Photos by Dishing Out Health