Smores Stuffed Chocolate Chip Cookies are deliciously soft, thick cookies with graham crackers, milk chocolate, and a gooey marshmallow baed right inside! Two of my favorite desserts in one easy cookie recipe!

Today's cookie recipe is a knock-your-socks-off kinda cookie. ANNNND I'm annoyed at myself because last week on August 10th it was National Smores Day and I totally missed posting this recipe, which was my plan…because I don't know if you know this, but August 10th, while being National Smores day is ALSO my birthday!!
But life happened, aka I was lazy, and I forgot to get this out into the internet in time. BUT I know you guys will all forgive me because this is still a bomb cookie recipe for all the days of the year, AND we all know that no one really pays attention to National Food Holidays except for bloggers. Guilty.
Looking for more Smores Recipes? Try These: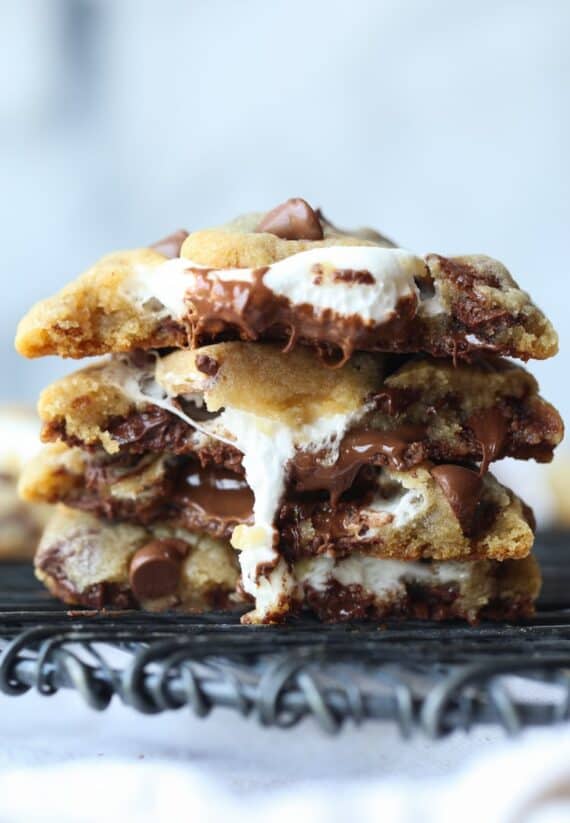 Smores Stuffed Chocolate Chip Cookies are a Gooey Dream Come True!
I have a few pretty great smores recipes on my site. I mean, you can't go wrong with the combination of graham crackers, milk chocolate, and marshmallows. I actually have a Smores Cookie recipe here on my site, that I made in a muffin top pan to make them "deep dish". BUT you totally don't need that pan to make the cookies, and I actually included a version of them in my book without the pan as well. They are seriously one of the most beloved cookie recipes in my book! AND I have a DIRTY Smores Cookie recipe too, which is a cookie rolled in graham cracker crumbs giving it a "dirty" appearance. It's a super fun recipe too.
BUT I wanted to take the whole smores cookie idea to the next level…by stuffing a smore INTO a cookie. I MEAN RIGHT!? And I will tell you, it was a definite success.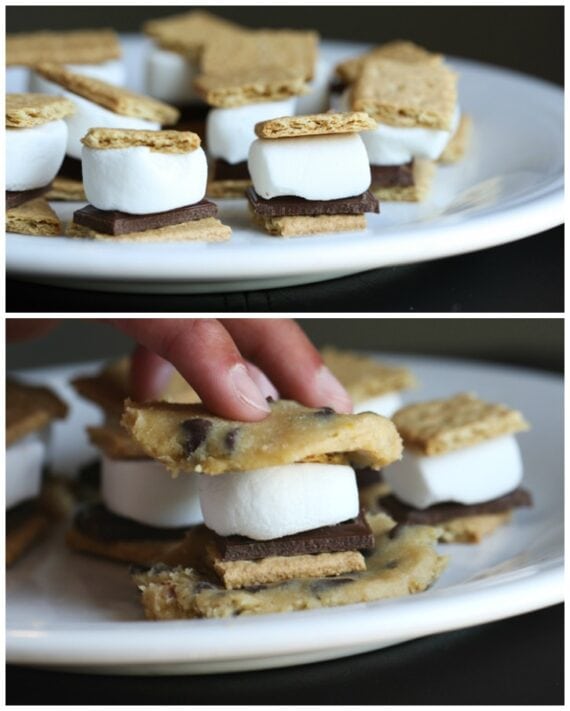 How To Make Smores Stuffed Cookies
Obviously I have a love for stuffing cookies. I've got some great stuffed cookie recipes here on my site, and I have a whole working list of new ones to try. They're easy to do once you have a great, thick base cookie recipe to play with!
The base chocolate chip cookie recipe I used here is thick enough to make sure an entire prepared smore will stay inside, which is the trick. The right ratio of butter to sugar to flour and you can stuff pretty much anything inside!
Creating the Smores
What you will need to do for this recipe is prepare mini smores first as shown above. You will need:
Graham Crackers. You'll just need a small square, so the way to go about this, is to break a sheet of graham crackers according to the perforation. This will give you 4 rectangles. Then carefully break each rectangle in half again.
Milk Chocolate Bar. I used Hershey's because that's quintessential "smores" for me. Break each bar into 12 rectangles of chocolate and place one piece of chocolate on top of half of the graham squares.
Marshmallows. Use the regular sized marshmallows if you can here. Cut each one in half. If you only have minis, you can use 2 minis in place of half of the one regular. I just find they stay together better and create a gooier cookie if you cut the regular size in half.
Once you've created all your smores, set them aside and make your cookie dough!
Stuffing the Cookies
To assemble the cookies you will see in the second image above that I scooped out 2 portions of cookie dough using a medium cookie scoop.
Flatten each portion into a flat, circular disk.
Place the smore on top of one of the disks, and place the other disk on top.
Now for the cookie dough around the smore, careful to make sure it's completely sealed.
Place the stuffed dough balls onto a parchment lined baking sheet about 2-3 inches apart, to give room for spreading.
When you bake the cookies, the marshmallow might ooze out a little bit or peak through, as shown, This is ok, and will most likely happen! Just do your best to make sure the smore is sealed inside the cookie dough.
What Variations Can You Make To These Smores Stuffed Chocolate Chip Cookies?
So glad you asked! haha! Here are a few ideas to switch these up a little bit…
Use milk chocolate chips instead of semi-sweet chips to make them extra sweet!
Instead of milk chocolate on the inside of the smore, you can use dark chocolate!
Switch out the chocolate bar entirely and use other types of candy like a mini peanut butter cup, a Rolo, or even a mini Snickers!
Can You Freeze Smores Stuffed Cookies?
Yes you can, but of course without reheating these cookies you will lose the gooey-ness of the marshmallow! And if you have a lot of marshmallow exposed after baking, it can get very chewy if frozen.
And yes, you CAN freeze the dough balls before baking them and they should be fine (again, as long as the smore is completely sealed inside), although I never recommend refrigerating or freezing marshmallows if you're looking for the best marshmallow experience. Marshmallows, in my opinion should only be stored at room temperature.
Looking for More Stuffed Cookie Recipes? Try These:
Smores Stuffed Chocolate Chip Cookies
---
Description
Your favorite summertime dessert baked inside your favorite every time dessert!!
---
Ingredients
12

marshmallows

2

Hershey's Milk Chocolate Bars

6

full graham crackers, broken (or cut) into 24 square pieces

1 cup

 butter, room temperature

1 cup

 light brown sugar

1/4 cup

 granulated sugar

1

 egg, plus 1 egg yolk

2 teaspoon

s vanilla

1 teaspoon

 baking soda

1 teaspoon

 kosher salt

2 1/2 cup

s all purpose flour

2 cup

s semi-sweet chocolate chips
---
Instructions
Preheat the oven to 375°F. Line a baking sheet with parchment paper and set aside.
To make smores, cut each marshmallow in half. Break each chocolate bar into 12 pieces. Break or cut your graham cracker in half, then break them in half again using the perforated lines. Now break each rectangle in half carefully. If they are not exact, this is fine, as they are going inside the cookie! Now form your smores ingredients into 12 miniature smores. Set aside.
To make the cookie dough, mix the butter, brown sugar, and granulated sugar in the bowl of your stand mixer fitted with the paddle attachment on medium speed for 2 minutes. Add in the egg, the egg yolk, vanilla, baking soda, and salt, mixing for 1 minute until combined, scraping the sides of the bowl as necessary.
Turn the mixer to low and add in the flour, mixing until just combined. Stir in the chocolate chips until evenly incorporated.
Using a medium (2- tablespoon) cookie scoop, portion out the dough. Divide the dough scoop into 2 halves. Flatten each into a flat circle. Place a prepared smore on top of one of the circles. Place the other circle on top of the smore and gently wrap the dough around the smore, making sure to seal it inside.
Place the cookie dough balls onto the baking sheet 2- inches apart and bake for 9 minutes, or until the edges are golden brown and the tops are just set.
Remove from the oven and allow the cookies to cool on the baking sheet for 2-3 minutes before transferring to a wire rack to cool completely.
---
Notes
Store airtight at room temperature for up to 3 days.
Keywords: cookies and cups, smores cookies, cookie recipe, smores