This French Onion Dip recipe is easy to make, lightened up a bit, and irresistibly delicious!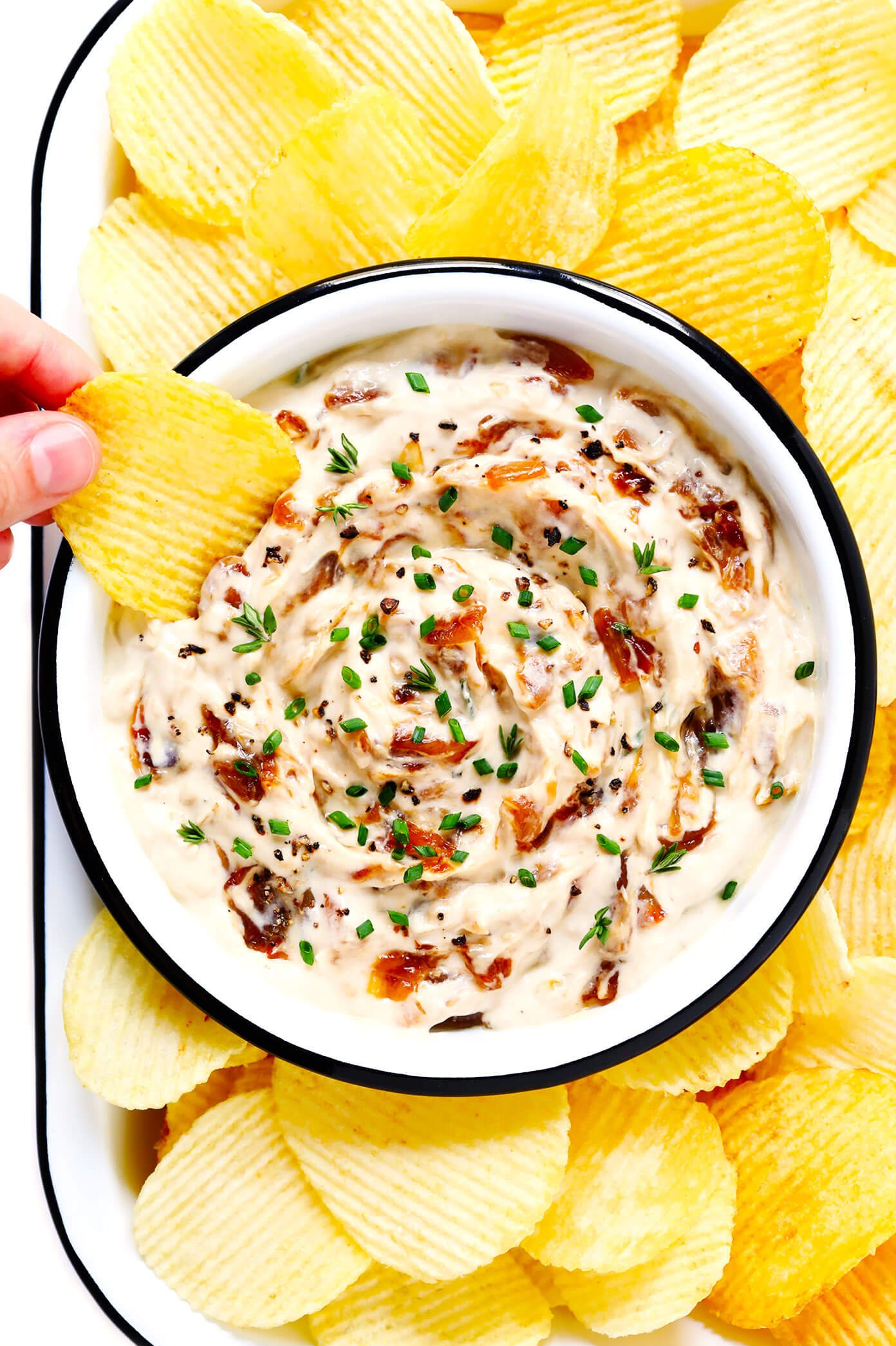 Fellow dip lovers!  Do you have a stellar French onion dip recipe in your back pocket?!
If not, bookmark this one! ♡
It has been my go-to French onion dip recipe for years and years.  And, I would note, has a 100% success rate of disappearing instantly anytime I bring it to a party.  People absolutely love this stuff.  And I'm a big fan because it's easy to make (you just need to budget in time to caramelize those onions), made completely from scratch (so long, retro onion soup packets with a million processed ingredients), and also lightened up a bit (yet still full of bold savory flavors).
Feel free to serve it up with chips, veggies, bread, fries, crackers, or any other dippers that sound good.  And hey — if you feel like making a double batch while you're at it — I can vouch that French onion dip also tastes great as a spread on burgers and flatbreads, dolloped onto grilled chicken or a bowl of chili, or even stirred into mashed potatoes or scrambled eggs.  So many reasons to make this dip!
Let's do it.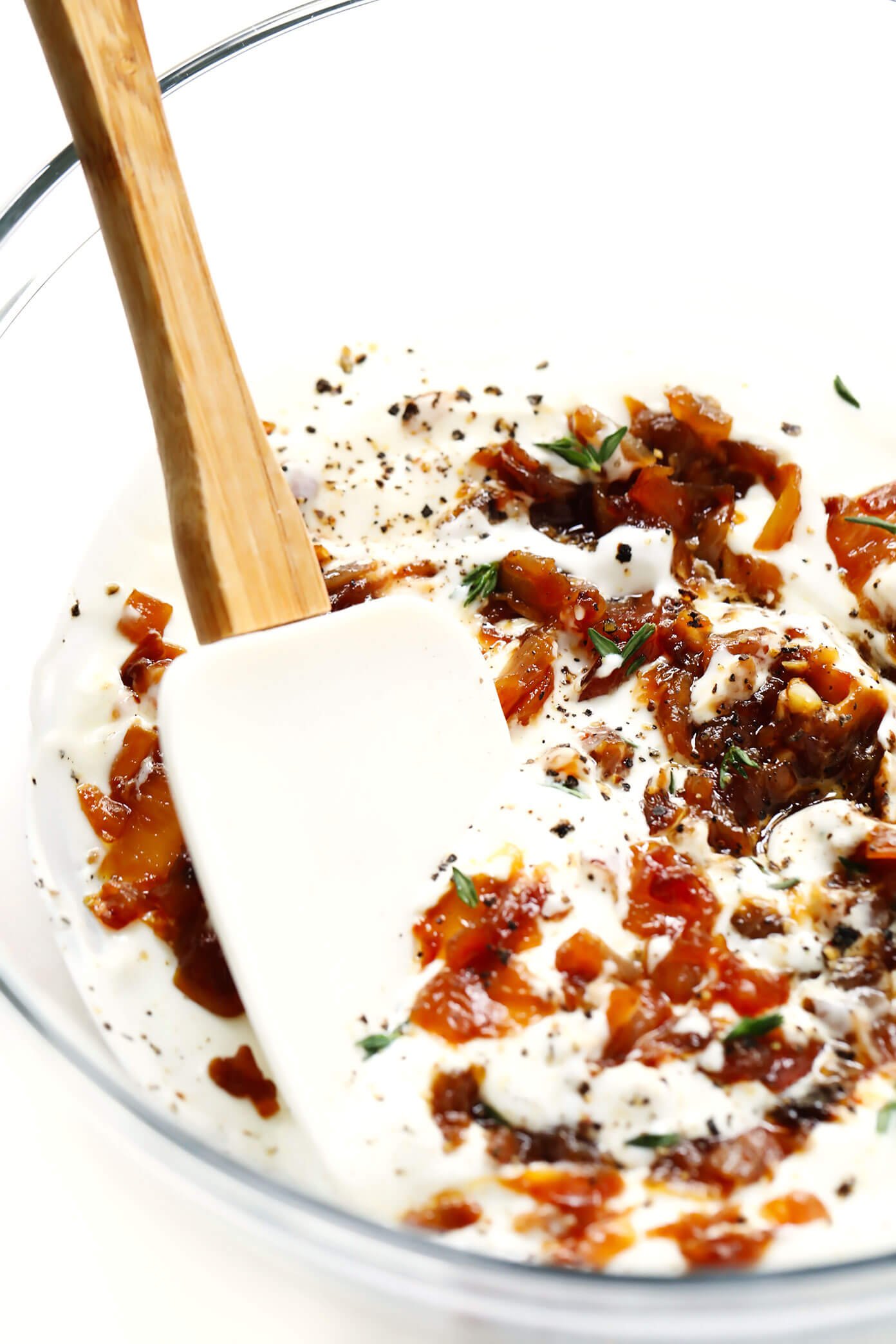 French Onion Dip Ingredients:
To make this homemade French onion dip recipe, you will need the following ingredients:
Onions: Yellow or white, and either diced or thinly-sliced, caramelized in butter or olive oil.  You've got options! 😉
Garlic: Which we will briefly sauté in with those caramelized onions.
Sour cream: I like to use light sour cream, but full-fat sour cream or plain Greek yogurt would also work.
Fresh herbs: I love adding fresh chives and fresh thyme into this recipe, but dried thyme would also work.
Worcestershire: To give this dip some extra umami goodness.  Feel free to use vegan Worcestershire sauce (affiliate link) if you would like to make this recipe 100% vegetarian.
Salt and pepper: For seasoning.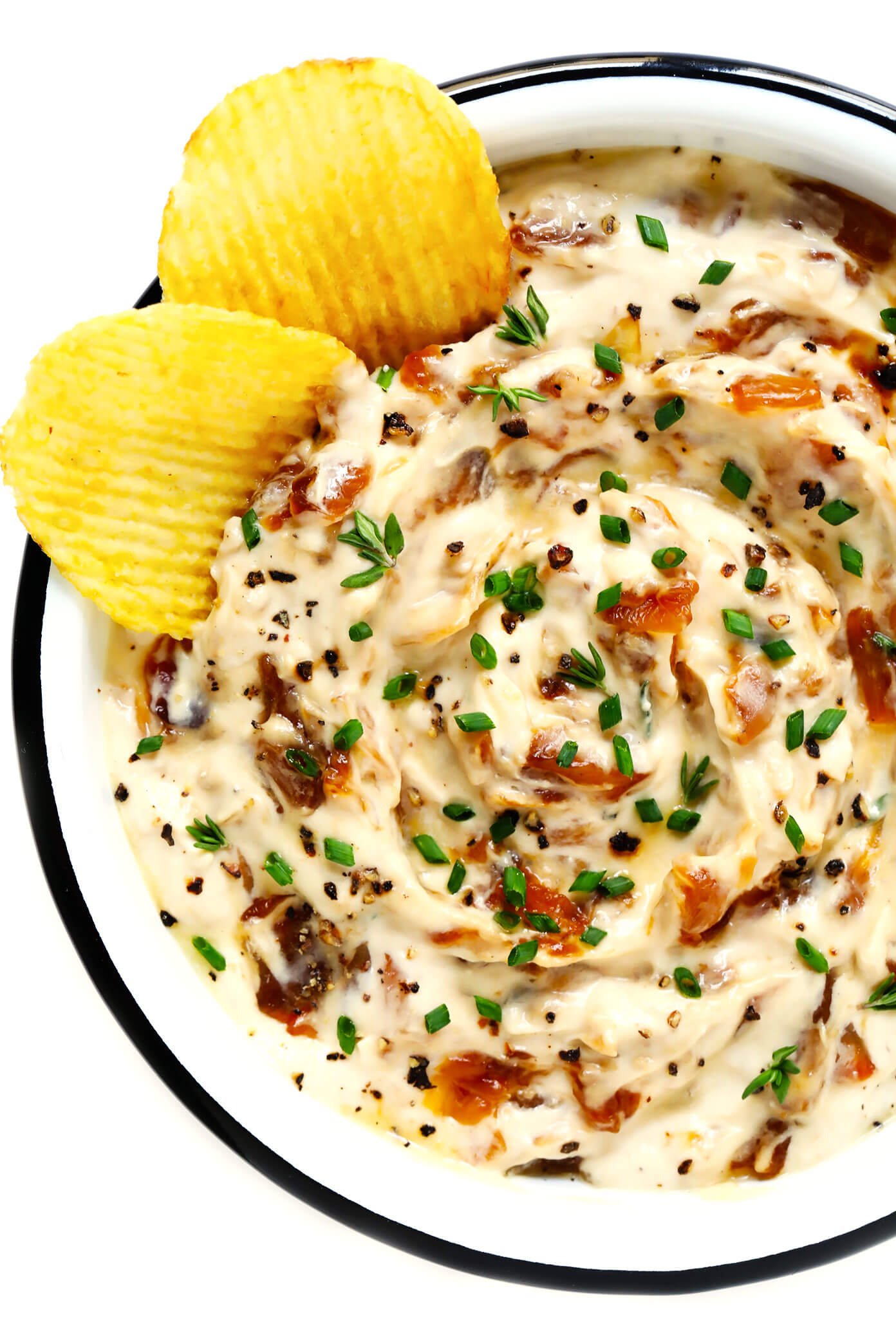 How To Make Onion Dip:
To make this caramelized onion dip recipe, simply…
Caramelize the onions.  In either butter or olive oil, sauté the onions — being sure to stir them every 2-3 minutes or so — until they are caramelized and a deep golden color.  Then pop them in the fridge for about 15 minutes to cool.  (If you want to speed up this process, spread them out in a thin layer on a plate and freeze for about 7 minutes!)
Combine. Then mix the cooled onions with the remaining ingredients.
Season. Give the dip a taste and see if it needs any extra S&P and/or Worcestershire.
Serve (or store). Then serve it up, garnished with your desired toppings, and enjoy!  This dip will also keep in the fridge in a sealed container for up to 3 days.
Detailed recipe ingredients/instructions included below.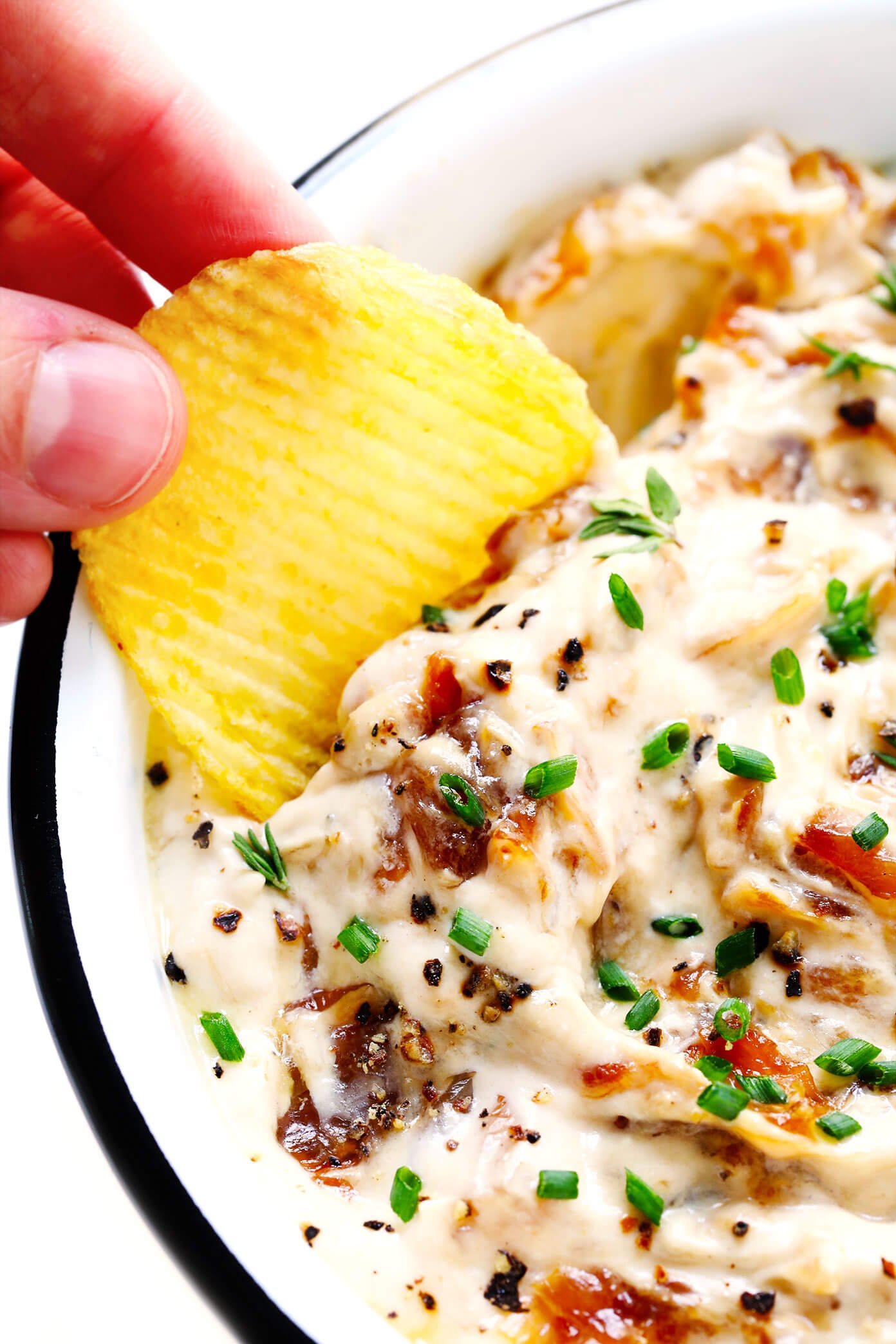 Possible Recipe Variations:
Want to mix things up with this French onion dip recipe?  Feel free to:
Use mayo, cream cheese, and/or Greek yogurt. If sour cream isn't your thing, feel free to use mayo, cream cheese, or plain Greek yogurt instead.  Or a combination of any of those four creamy base ingredients.
Use different herbs. There are all sorts of other fresh herbs that would taste delicious in place of (or in addition to) thyme and chives, such as rosemary, tarragon, parsley, sage or basil.  Just chop and add to taste.
Make it spicy. If you would like to give this onion dip recipe an extra kick, feel free to stir in some crushed red pepper flakes.
Make it vegetarian.  If you are concerned about the anchovies used in traditional Worcestershire sauce, just use vegan Worcestershire sauce instead.
Add a splash of white wine. It's lovely and really balances out those flavors.
Add chicken. I know, sounds weird, but I tried it one time and can vouch that chicken onion dip is delicious.  (Also a hit at a party!)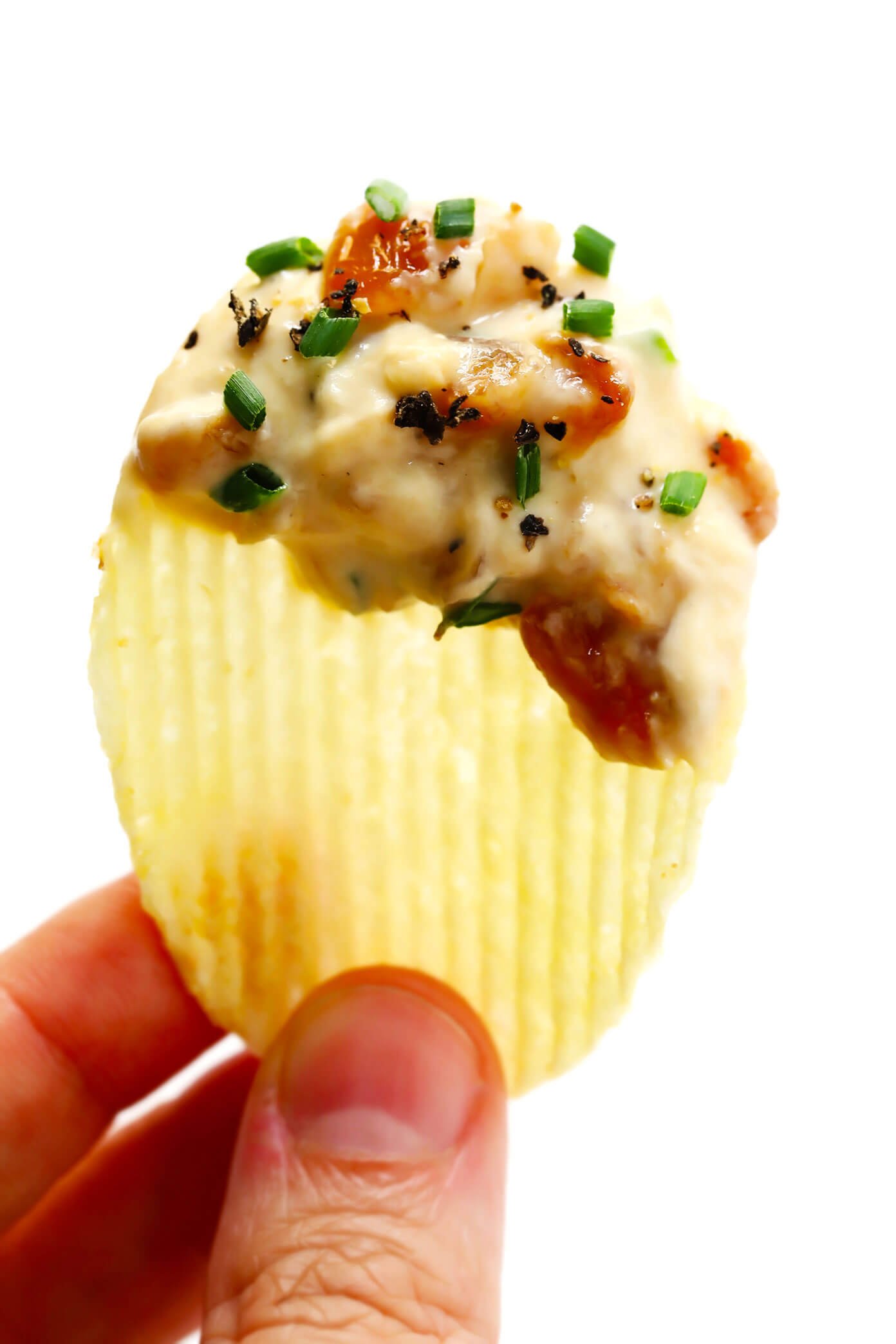 More Favorite Dip Recipes:
Looking for more great dip recipes?  Here are a few more of my faves:
---
Description
This French Onion Dip recipe is easy to make, lightened up a bit, and irresistibly delicious!  See notes above for possible ingredient variations.
---
Scale
Ingredients
2 tablespoon

s butter or olive oil

3

medium yellow or white onions, peeled and diced

2

cloves garlic, minced

1 1/2 cup

s light sour cream (or plain Greek yogurt)

2 teaspoon

s chopped fresh chives

2

 teaspoons Worcestershire sauce, to taste

1 teaspoon

fresh thyme leaves (or

1/4 teaspoon

dried thyme)

1 teaspoon

fine sea salt

1/2 teaspoon

freshly-cracked black pepper
---
Instructions
In a large heavy-bottomed stockpot or sauté pan, melt the butter over medium-high heat.  Add the onions and sauté, stirring every 2-3 minutes for about 30 minutes, or until the onions are caramelized to a deep golden brown color.  (If the bottom of the pan starts to burn, just add in a tablespoon or so of water at a time.)
Add garlic and sauté for 1-2 minutes, until fragrant.  Remove from heat and transfer the onion mixture to a medium mixing bowl.  Refrigerate for 15-20 minutes or until the onions reach room temperature.
Set aside a few tablespoons of the onion mixture, which we will use later as a topping.  Add the remaining ingredients to the bowl of caramelized onions, and stir until evenly combined.
Taste and season with additional salt and pepper and extra Worcestershire, if need be.
Serve immediately, topped with the reserved caramelized onions and extra chives, if desired.  Or cover and refrigerate for up to 3 days.