This is the Best Apple Pie Recipe ever!! Sweet, tart, caramelized apples sweetened with a cinnamon sugar are loaded inside a thick, buttery pie crust. This is a true classic dessert that turns out perfect every time!

Can you even believe that I have been blogging for almost 11 years and I have never shared my Classic Apple Pie Recipe with you? It's pretty rude if you ask me! I guess it's just one of those recipes that (in my mind) flies under the radar, or I just assume that everyone already HAS an apple pie recipe, OR that it's just kind of boring.
In other words, there is something wrong with my brain. I have shared a few variations on Apple Pie like:
Because Apple Pie is CLASSIC, not boring! AND you might have an apple pie recipe, but you don't have MY apple pie recipe…which I hope we've built a level of trust over these past 11 years.
And let me tee this up for you…my pie recipe is easy to make, loaded with apples, AND my secret "touch" is that I caramelize the apples before baking…which sounds like a whole thing, but it's incredibly easy, and FAST!
So if you haven't checked out my recipe for PIE CRUST, hop over and get that made, because I will say that there isn't much better than Homemade Apple Pie on a crust you made with your own two hands.
Domestic Badass Level 10! Let's go!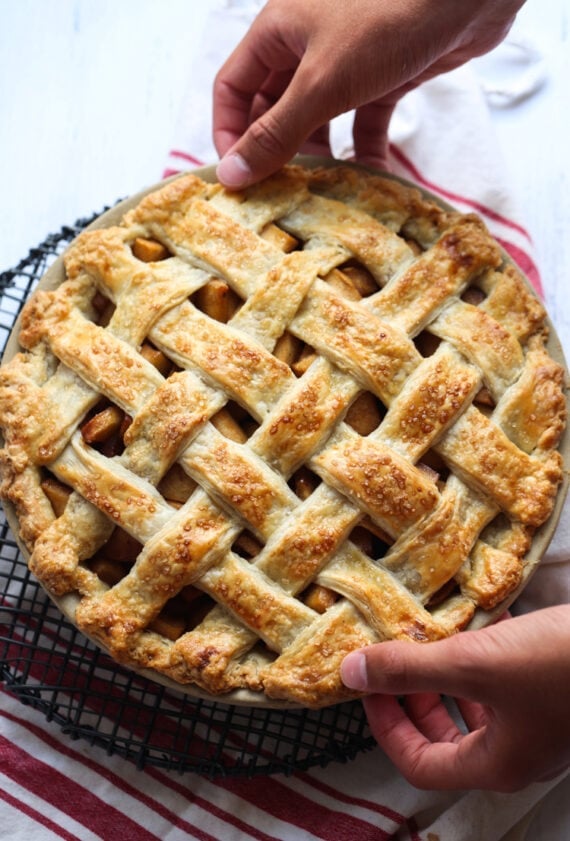 How To Make The BEST Apple Pie!
Here's the thing…I actually don't love making pie. I know, I know, I talk about how EASY it is, how SIMPLE, how QUICK…but it just isn't my first love in the kitchen. But I will say, that every time I make a pie, I always think…how EASY, how QUICK, how SIMPLE! So I am planning on making more pie. My jeans aren't happy, but they never are.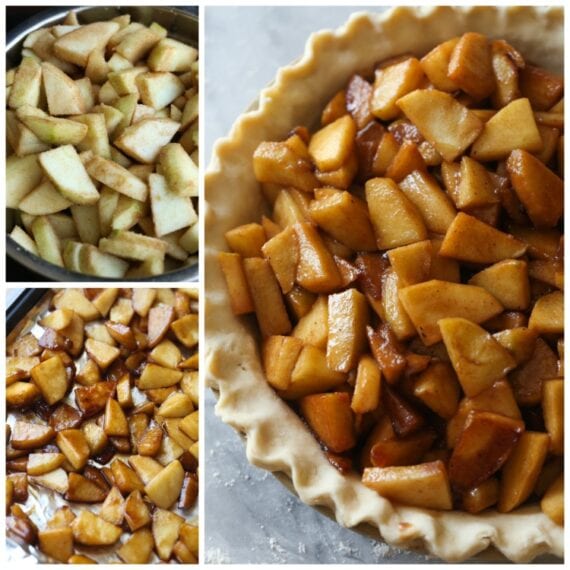 Apple Filling Recipe
The key to apple pie is the filling. I mean duh, right! BUT the thing about apple pie filling is since it's kinda-sorta the most important part, it can make or break your pie! If it's too watery, or liquidy it's not good, if it's too dry, it's also not ideal. Or if it's lacking flavor that's probably the WORST. So I've created a very simple filling recipe that is packed with as much flavor as possible with only 4 ingredients. It's kind of magic. Here's what you'll need:
Apples. I always use Granny Smith because I like the texture and tartness, however you can absolutely use another variety of apple like Honeycrisp, Fuji, Braeburn, Winesap, or Gala. Just try and choose an apple with a firmer texture that has a slight tartness. I find this pairs best with the natural sweetness of the apple, along with the cinnamon sugar you'll be adding!
Cinnamon & Granulated Sugar. This is what you'll be using to flavor your pie! You can also use brown sugar to create a more butterscotch filling, or you can add a pinch of nutmeg for a little more spice! I know they sell "Apple Pie Spice" and you can certainly use a little of that too!
Butter. This is what you will be frying the apples in. The butter, paired with the apples and cinnamon sugar creates a silky caramel sauce as you're cooking the apples!
Do You Have To Cook The Apples For Apple Pie Filling?
The secret to my apple pie is caramelizing the apples! I like to add as much flavor as I can to my apple pie and by frying the apples in a little butter, you get a golden sear on the apples, all while creating a beautiful silky caramel sauce.
But, no, you don't HAVE to cook the apples. There are plenty of apple pie recipes that call for adding raw apples right into the crust, although with those recipes you will need to use a bit of flour to help thicken up the juices the apples make while they're baking. Caramelizing them prior to adding them into the crust omits this step.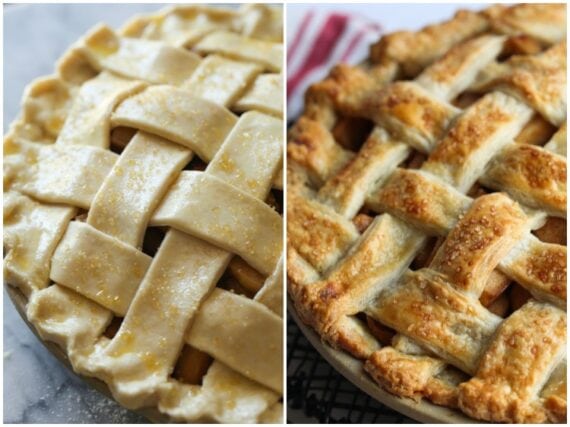 How To Make Your Apple Pie Pretty
Here's the deal, don't stress about making your pie "pretty". Unless you're entering a pie contest, rustic is ALWAYS best! A lattice crust, like I pictured above is about as fancy as I get…and usually I will admit, I just place the whole round crust on top and vent it with a few slits into the dough. It's the easiest way, and once you slice it, it won't matter anyway!
I've seen all those braided crusts, with fancy pie decorations and gorgeous, crimped edges. That's just not not how I do pie. Not that there's anything wrong with that, I just don't have the patience. I give it up to those of you who love pie art!
I just think that once you top your slice with a scoop of melty vanilla ice cream it won't make a difference what's underneath!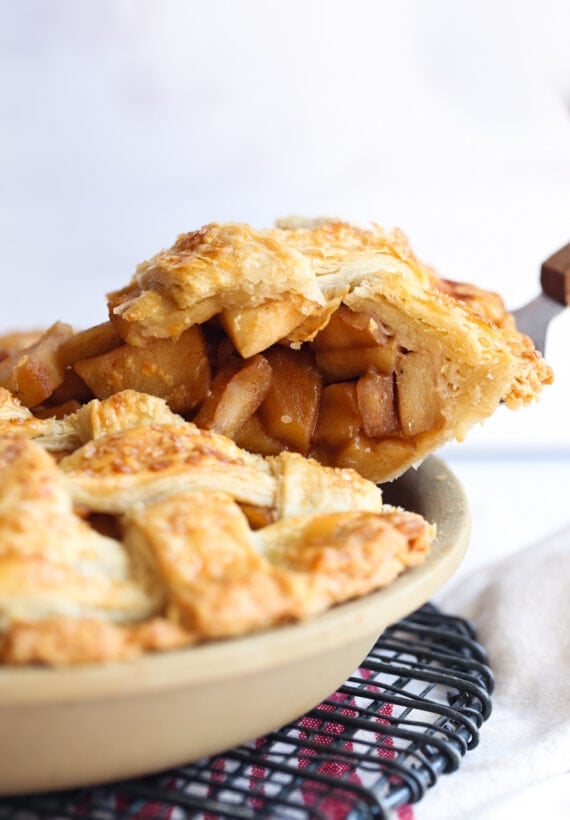 Love Apples but not Pie? Try These Other Amazing Apple Desserts!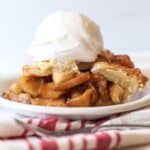 The Best Apple Pie Recipe EVER!
---
Description
This Easy Apple Pie Recipe is my most favorite! I love caramelizing the apples, which only takes a few minutes in a hot skillet for an extra layer of flavor!
---
Ingredients
Recipe for Pie Crust
3 1/2

–

4

pounds Granny Smith Apples, peeled and sliced into

1/4

– inch pieces

1/2 cup

granulated sugar

1 teaspoon

ground cinnamon

1/3 cup

butter

1

egg

1 tablespoon

water
optional – 2 tablespoons turbinado sugar for sprinkling
---
Instructions
Roll one pie crust out on a floured surface to 1/8- inch thick. Transfer the dough into a 9- inch pie plate and press gently to fit. Cut the excess dough hanging over the edges, leaving about 1- inch. Crimp the edges using your fingers around the edge of the pie plate. Refrigerate the dough.
Place the sliced apples in a large bowl. Set aside.
In a small bowl combine the granulated sugar and cinnamon. Sprinkle this on top of the apples, tossing to coat.
Heat a large skillet over medium-high heat. Melt half of the butter in the pan. Pour half of the apples into the hot skillet and fry for 6-7 minutes until they are slightly softened and caramelized at the edges.
Remove the apples and sauce created from the skillet onto a large baking sheet to cool completely. Repeat with remaining butter and apples.
When the apples are cooled, remove the pie crust from the refrigerator and pour the apples into the crust.
Roll out the remaining pie dough on a lightly floured surface to 1/8- inch thick. Place the pie dough on top of the apples, cutting the excess dough at the edge. Crimp the pie crust together with the bottom crust. If necessary, lightly wet the bottom crust with a little water to help stick together.
Make 4 slices in the top of the dough to vent steam to escape while baking.
Whisk together the egg and the water. Lightly brush the egg mixture on top of the pie dough. You won't use it all.
Sprinkle with turbinado sugar, if desired.
Bake for 45-50 minutes until golden. If the pie crust is browning too much, use a pie shield or foil to prevent it from burning.
Allow your pie to cool at least 1 hour before slicing.
---
Notes
Store airtight at room temperature for up to 2 days, or in the refrigerator for up to 5 days.
If you like to do a lattice top crust as pictured, follow all the steps as written, but after you roll out the top dough, slice it into 1- inch strips using a paring knife, or a pizza cutter. Place the strips on top one at a time and weave them in and out of each other. Crimp the edges as stated, and brush with the egg wash.
Keywords: cookies and cups, pie recipe, apple pie recipe, pie crust