My Hummingbird Cake Recipe is an amazingly soft, Southern classic cake recipe loaded with banana, pineapple and topped with cream cheese frosting.

Proceed with caution if you are trying to lose weight, watch your figure, or don't plan on eating half a cake in the next day. Because friends, this Hummingbird Cake recipe is pretty life changing. I have made this cake on a few occasions, but it's not a recipe that I make often, because, well, I can't seem to control myself. I will eat it until I am absolutely disgusted with myself, and then eat some more. It is THAT GOOD.
Now, it kinda-sorta seems like I'm sharing a cake recipe with you today, and trying to talk you out of making it. I see the irony. However, I just want to make sure you're fully warned, a PSA if you will, to the crazy deliciousness that is coming your way. And I am talking, FAVORITE.CAKE.STATUS. Like why have I not shared this recipe with you yet? Rude.
So today we're talking about Hummingbird Cake and all it's gloriousness. Get yourself right.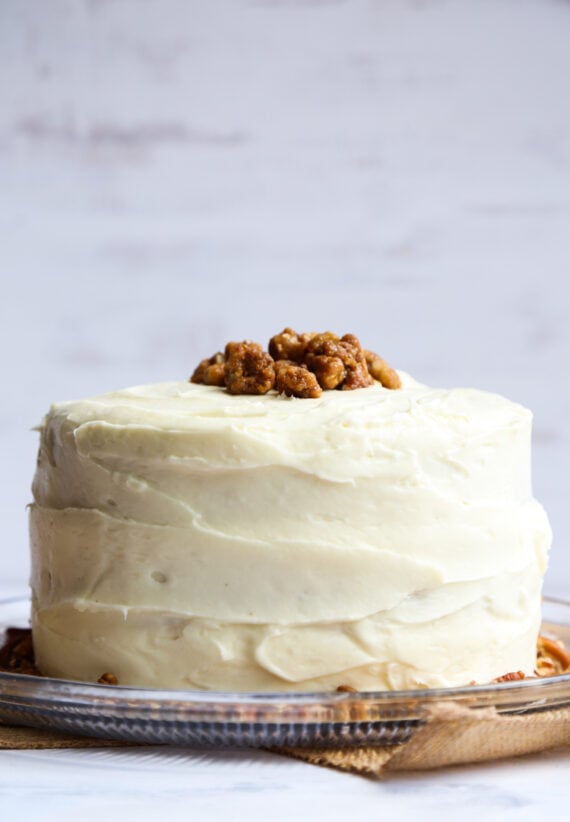 What IS Hummingbird Cake?
Hummingbird Cake is a southern classic. I have a recipe from my Grandma, but it actually seems to be the same recipe that I have seen online time and time again. It's a super moist cake made with mashed bananas, pineapple, and chopped pecans. There are variations out there with some different add-ins, but I'll get to that in a minute.
The origin of the name seems to be a mystery, at least from the bit of research I've done on it…but if you have any clues as to the where it got its name, I'd love to hear!
Hummingbird Cake is made a lot like a banana bread recipe…a little like my Pineapple Banana Bread recipe. But it's not quite as dense as a banana bread recipe. The texture is a lot like my carrot cake recipe, but without the carrots! Have I confused you yet?
Hummingbird Cake is a Southern Classic!
We recently spent a week down in Seaside, Florida and at so many of the restaurants we went to Hummingbird Cake was on the menu. A lot of the friends we were with had never tried it, so I knew it was a recipe I needed to share.
Sidenote – If you've never been to Seaside, it's one of my most favorite vacation places. This was the third time I have been down there, and this time we rented a house in the Watercolor section (via Sanders Beach Rentals) and it was SO amazing. 10/10 Highly recommend!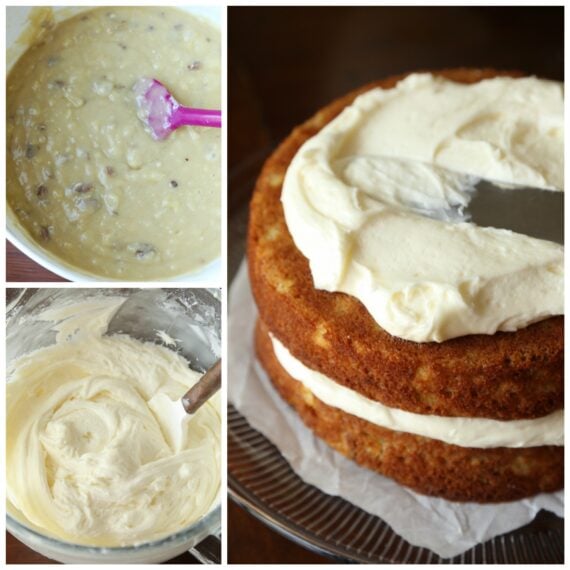 How To Make Hummingbird Cake
One of the best things about this cake recipe (besides how good it is) is you DON'T NEED A MIXER!! Yep, you read that right. Like I said above, the method here is very similar to banana bread. You mix the wet ingredients into the dry with a wooden spoon or a rubber spatula and voila!
What Ingredients Do You Need?
Simple ingredients make the best recipes, and this cake is no exception!
All Purpose Flour.
Granulated Sugar
Baking Soda & Kosher Salt
Eggs
Mashed Ripe Bananas
Crushed Pineapple WITH the juices
Vanilla
Canola Oil – or any type of light oil like vegetable or grapeseed!
Chopped Pecans
What Else Can You Add To Hummingbird Cake?
This is a great cake to get a little creative with! Here are some ideas of how to jazz it up:
Ground Cinnamon. A lot of Hummingbird Cake recipes include cinnamon. I actually just prefer it without, but it's definitely a spice that can add some yummy flavor! Just whisk in 1 teaspoon in with your dry ingredients.
Sweetened Flaked Coconut. You can add in 3/4 cup into the batter! You can also toast some coconut and use it as a garnish as well!
Other Nuts. If you don't like pecans, or only have walnuts on-hand, so ahead and swap them out! AND I love adding my Candied Pecans on top as a garnish!
Nutmeg. Just a pinch can add a little more spice to this cake!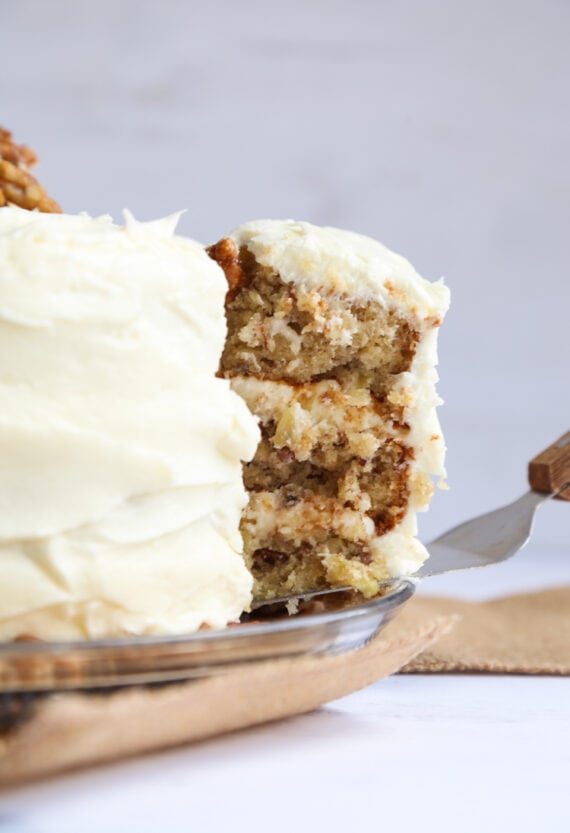 What Frosting Do You Use on Hummingbird Cake?
In my eyes, there is no other answer here except Cream Cheese Frosting! Ive included my favorite recipe below in the recipe card, but if you are one of those folks who doesn't prefer cream cheese frosting here are a few other options:
Can You Make This Cake In Other Pans?
Yep! Absolutely! Here are some baking time adjustments:
It will yield about 3 dozen cupcakes, and you will bake the cupcakes for 20 – 22 minutes. Prepare the frosting as written.
10-15 cup Bundt Cake Pan bake for 50-60 minutes, and half the frosting recipe.
A 9×13 pan will take 25 – 35 minutes, and half the frosting recipe.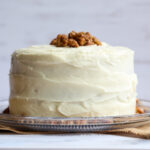 ---
Description
Soft, sweet, and delicious Hummingbird Cake is a Southern favorite! Topped and filled with cream cheese frosting this is a classic!
---
Ingredients
3 cup

s all purpose flour

2 cup

s granulated sugar

1 teaspoon

baking soda

1 teaspoon

kosher salt

1 1/2 cup

s canola oil

2

large bananas, mashed (1 1/2 –

1 3/4 cup

s)

8 ounce

s crushed pineapple, undrained

3

eggs

2 teaspoon

s vanilla extract

3/4 cup

chopped pecans
Frosting
2

(8- ounce) blocks cream cheese, room temperature

1 cup

butter, room temperature

8 cup

s powdered sugar

1 teaspoon

vanilla extract
Optional garnish – Candied Pecans or chopped pecans
---
Instructions
Preheat oven to 350°F.
Coat 3, 8- inch or 9- inch cake pans with nonstick baking spray. Cut 3 rounds of parchment paper to fit into the bottom of each cake pan. Place the parchment paper in the bottom of the prepared pan and coat again with nonstick spray. Set aside.
In a large mixing bowl whisk together the flour, sugar, baking soda, and salt. Set aside.
In a medium mixing bowl whisk together the oil, bananas, pineapple, eggs, vanilla, and pecans.
Stir the wet ingredients into the dry ingredients and stir together using a rubber spatula or wooden spoon until combined.
Pour the batter evenly into the prepared pans and bake for 25-30 minutes, or until the cakes are set and a toothpick inserted into the center comes out clean.
Allow the cakes to cool for 10 minutes in the pan and then turn the cakes out onto a wire rack to cool completely.
Frosting
In the bowl of your stand mixer fitted with the paddle attachment combine the cream cheese and butter on medium speed until combined and smooth.
Turn the mixer to low and slowly add in the powdered sugar until combined, scraping the sides of the bowl as necessary. Turn mixer up to medium and mix until smooth and creamy for 1 minute.
Place one cake on a cake plate and cover the top of the cake with a heaping cup of the frosting and spread evenly. Top with another cake and repeat. Top with the remaining cake layer and frost the cake with the remaining frosting, smoothing with an off-set spatula.
Garnish with chopped pecans or Candied Pecans.
---
Notes
Store airtight for up to 3 days in the refrigerator.
You can sub in walnuts for their pecans, or omit the nuts entirely!
Optional add-in: 1 cup coconut
Keywords: cookies and cups, hummingbird cake, cake recipe, comfort food, southern food