Juicy Honey Garlic Pork Chops with caramelised edges ready and on your table in less than 15 minutes! Smothered in the best 4-ingredient sauce!
This Honey Garlic Pork Chops Recipe is so easy you won't believe it when it's done! No marinating needed, this recipe is an incredibly quick and delicious way to serve bone in or boneless pork chops — seared until golden then simmered and broiled (or grilled) in the most amazing honey garlic sauce!
THE BEST part are those crispy, charred and caramelised edges!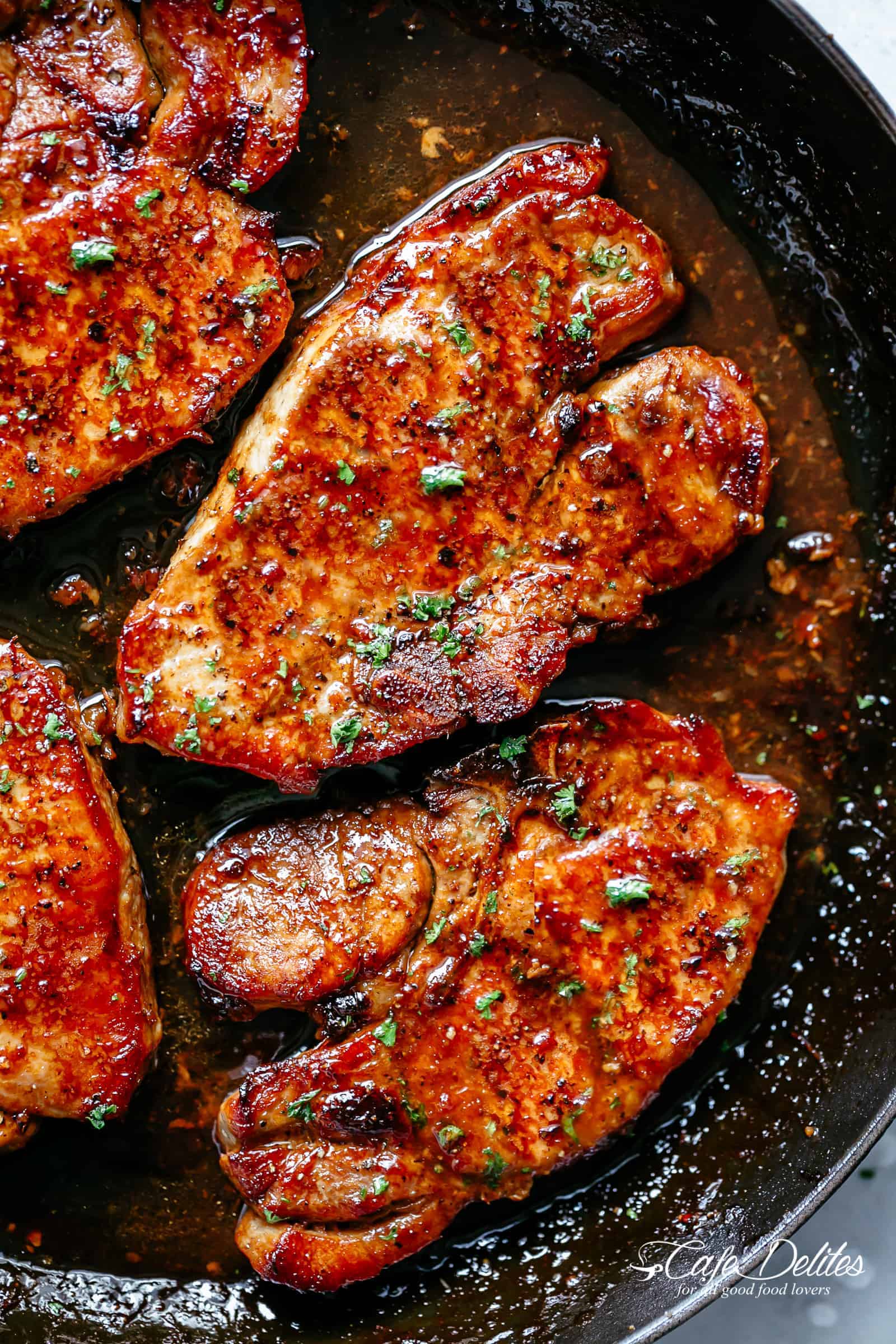 Pork Chop Recipes
The demand for this recipe has been overwhelming! Since publishing my Easy Honey Garlic Chicken recipe years ago, the amount of emails coming in asking for a pork chops version has been crazy! Crazy GOOD because this recipe is one of the best pork recipes we've ever had. Delicious, juicy and tender chops that melt-in-your mouth.
All done in a skillet or oven-proof pan then finished off under the broiler (or grill) for a couple of minutes to get those crisp edges. That last step is so worth it! Just look at the colour! You will not regret serving these Honey Garlic Pork Chops to your family!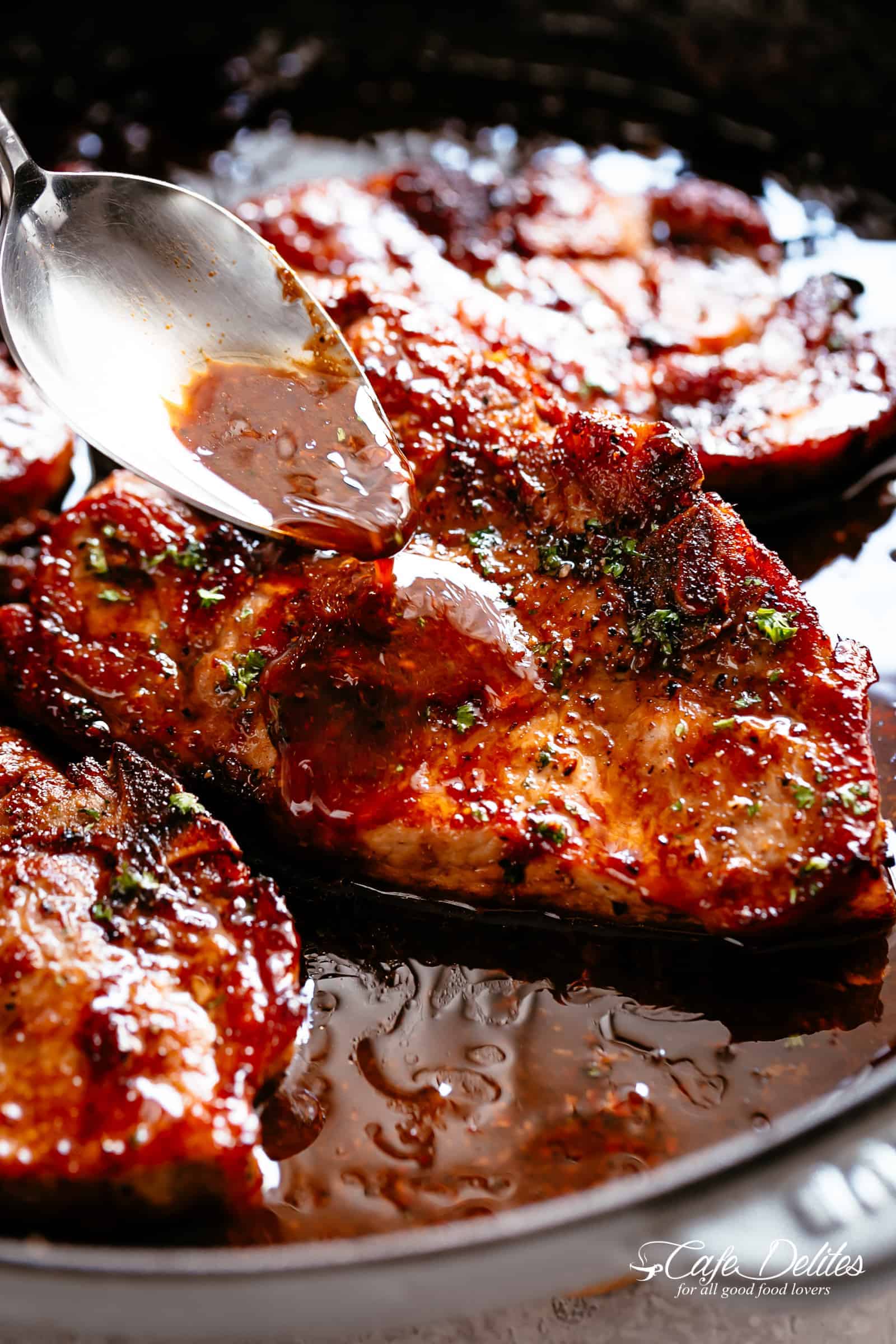 How To Cook Pork Chops
Boneless OR Bone-In chops can be used
Season chops just before cooking to ensure they stay tender and juicy while cooking.
Preheat your heavy-based pan or skillet and get it nice and hot before adding your chops.
Sear for 4-5 minutes each side until crisp and golden.
The juices in the chops release into the sauce while broiling, creating even more flavour and quantity of sauce to serve with your pork.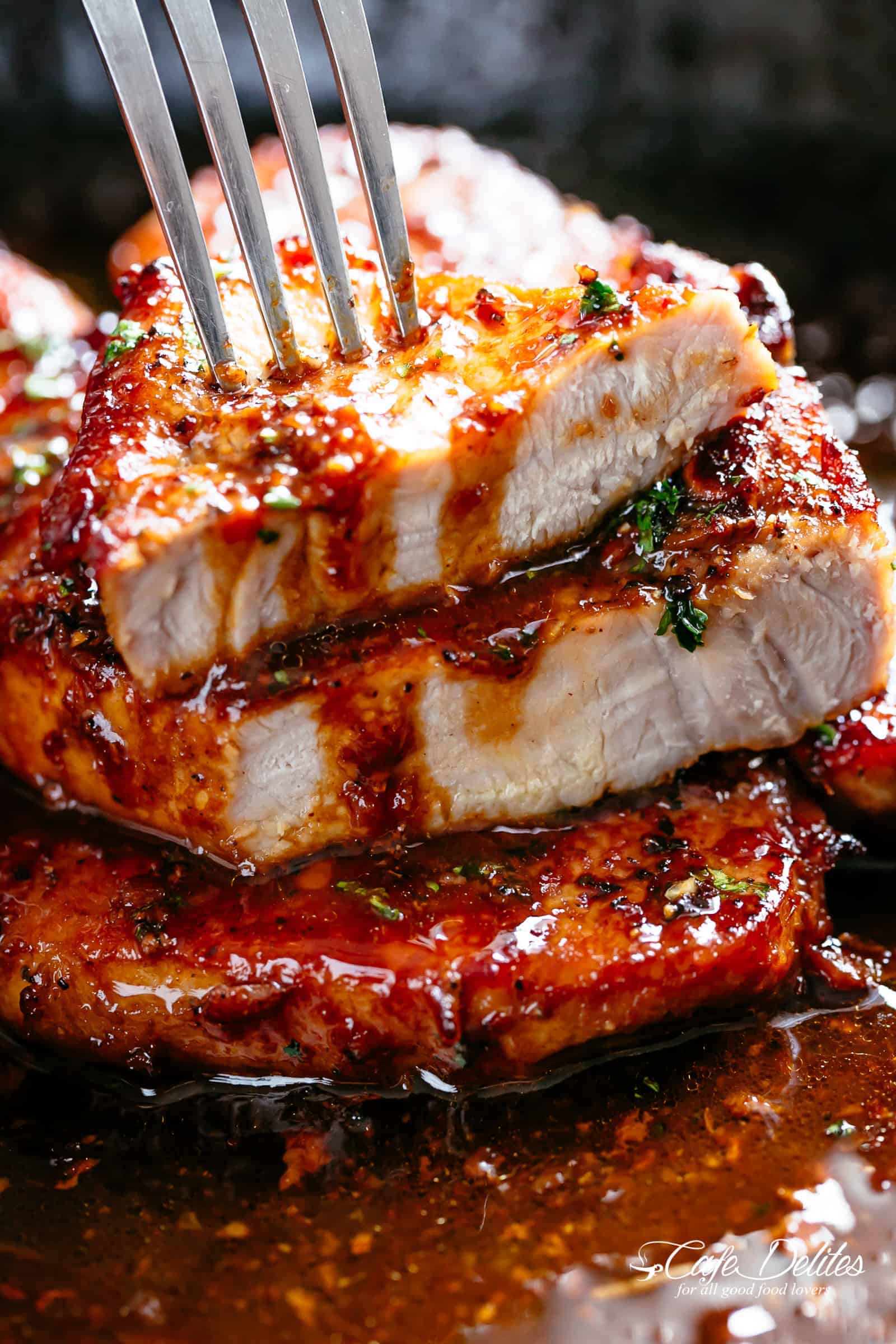 Pork Chop Marinade — no marinating needed!
Melt butter in the same pan as the porks were seared in to keep those flavours going into the sauce, then add the rest of your ingredients.
Cook until the sauce reduces down and thickens slightly (about 3-4 minutes). Don't cook for too long or the honey will reduce down completely, leaving you with a dry pan. (If that happens, just make another batch of sauce only to serve with later.)
Baste pork generously with the sauce, then broil/grill for 1-2 minutes, or until edges are slightly charred.
Baked Pork Chops
If you prefer oven baked pork chops, we've included directions in the Recipe Notes!
Sides that go with Honey Garlic Pork Chops
Easy Fried Rice or Cauliflower Rice
Roasted Broccoli
Cheesy Garlic Roasted Asparagus
Mac and Cheese
LOVE PORK? TRY THESE!
Creamy Mushroom Pork Chops
Crispy Pork Carnitas
Pork Roast With Crackle
Love Honey Garlic? Try these recipes!
Easy Honey Garlic Salmon
Browned Butter Honey Garlic Shrimp
Easy Honey Garlic Chicken
Honey Garlic Pork Chops Now On Video!
Easy Honey Garlic Pork Chops made simple, with the most amazing and addictive 4-ingredient honey garlic sauce that is so good you'll want it on everything! Quick and easy to make, your new family favourite pork recipe is here!
Prep: 10 mins
Cook: 12 mins
Total: 22 mins
Serves: 4 people
Ingredients
4

pork chops

bone in or out

Salt and pepper,

to season

1

teaspoon

garlic powder

2

tablespoons

olive oil

1

tablespoon

unsalted butter

6

cloves

garlic,

minced

1/4

cup

honey

1/4

cup

water

(or chicken broth)

2

tablespoons

rice wine vinegar

(or apple cider vinegar, or any white vinegar)
Instructions
Preheat oven broiler (or grill) on medium-high heat. Season chops with salt, pepper and garlic powder just before cooking.

Heat oil in a pan or skillet over medium high heat until hot. Sear chops on both sides until golden and cooked through (about 4-5 minutes each side). Transfer to a plate; set aside.

Reduce heat to medium. Melt butter in the same pan, scraping up any browned bits from the bottom of the pan. Sauté garlic until fragrant (about 30 seconds). Add the honey, water and vinegar. Increase heat to medium-high and continue to cook until the sauce reduces down and thickens slightly (about 3-4 minutes), while stirring occasionally.

Add pork back into the pan, baste generously with the sauce and broil/grill for 1-2 minutes, or until edges are slightly charred.

Garnish with parsley and serve over vegetables, rice, pasta or with a salad.
Notes
Baked Pork Chops:
Preheat oven to 390°F | 200°C.
Sear seasoned chops in a hot oven-proof pan or skillet over medium-high for 2 minutes per side — get them crisp.
Remove chops and make your sauce following the recipe above (Step 3).
Baste with sauce and bake in the oven for about 10-15 minutes, or until reaching your desired doneness.
Broil/grill for 2 minutes to get those caramelised edges!
Nutrition
Calories: 332kcal | Carbohydrates: 15g | Protein: 29g | Fat: 12g | Saturated Fat: 5g | Cholesterol: 104mg | Sodium: 68mg | Potassium: 337mg | Sugar: 14g | Vitamin A: 175IU | Vitamin C: 1.4mg | Calcium: 18mg | Iron: 0.8mg