Sponsored: You know the feeling. You've just got home from a long day at work and the last thing you want to do is spend hours in the kitchen cooking up something for dinner. But what if we told you that you could create something delicious and healthy for the family in no time at all and with minimum effort?
Here, Waitrose & Partners invites you to come closer to a selection of quick and effortlessly tasty recipes that you can whip up in 30 minutes or less that are perfect for busy weeknights during the school term.
Healthy and easy school night meals
Satay-style chicken skewers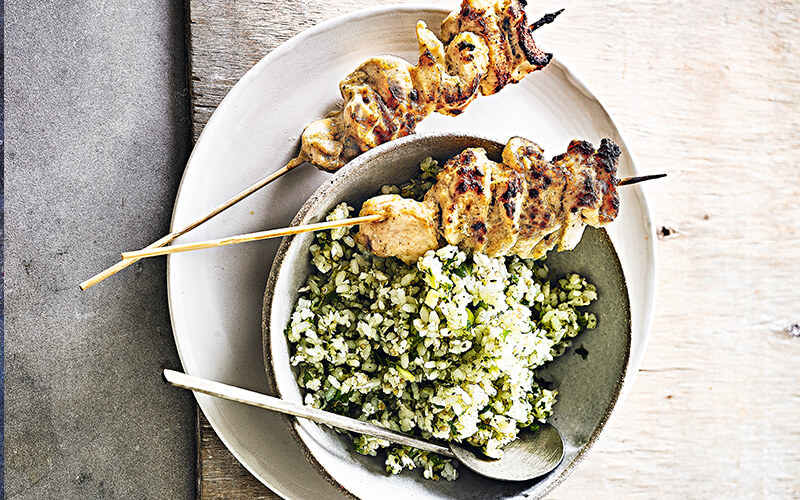 Peanut butter gives a rich nutty taste and works well with pork, beef or prawns. Soak wooden satay sticks in water for 30 minutes before use to stop them burning under the grill, or wrap the exposed part loosely in foil
Preparation time: 10 minutes + marinating
Cooking time: 10-15 minutes
Ingredients
1 tbsp Thai Green Curry Paste
2 tbsp essential Waitrose smooth peanut butter
3 tbsp wok oil
3 tbsp essential Waitrose Natural Yogurt
1 tbsp Waitrose Cooks' Ingredients nam pla Fish Sauce
380g pack 2 chicken breast fillets, cut into 1cm wide long strips
300g pack Waitrose Coconut Sticky Rice Stir Fry
Method
Mix together the curry paste, peanut butter, 2 tbsp oil, yogurt and fish sauce in a large bowl. Stir in the chicken strips and mix to evenly coat. Chill for 30 minutes to marinate. Thread onto 4 wooden satay sticks or skewers.
Place the skewers under a preheated grill for 10-15 minutes, turning once or twice until the chicken is cooked through (no pink meat).
Meanwhile, heat the remaining oil in a frying pan and cook the stir fry rice for 3 minutes. Serve with the chicken skewers.
Tuna, Olives and Tomato Pasta
Total time: 15 mins
Serves: 3-4
Ingredients:
200g of Waitrose whole-wheat penne
1 x 200g can of essential Waitrose tuna steak in olive oil
1 Waitrose Pasta Sauce
Handful of Waitrose Sliced Black Olives, drained
150-200ml of water
Basil
Salt and pepper
essential Waitrose English Mature Cheddar
Method:
Boil the pasta in a large pot for 10 mins.
While the pasta is cooking, mix the tuna, chopped olives, pasta sauce and together to create the sauce.
Heat the sauce.
Add basil, with salt and pepper to taste.
Once the pasta is cooked, add the sauce.
Serve with grated mature cheddar.
Cheese and tomato pizzas
Quick and easy to make, these simple pizzas use ciabatta bread as a base.  They can be ready to eat in under 30 minutes.
Preparation time: 10 minutes
Cooking time: 20 minutes
Serves: 2-4
Ingredients
1 pack 2 half ciabatta, halved horizontally
4 tbsp Waitrose Bright & Green basil pesto
1/2 x 25g pack fresh basil, shredded, plus whole leaves to serve
2 tomatoes, sliced
2 x 125g packs essential Waitrose Light Mozzarella, drained and sliced
Method
Preheat the oven to 200°C, gas mark 6.  Place the ciabatta halves, cut-side up, on a baking tray and spread with the pesto. Sprinkle over half of the shredded basil.
Alternate tomato and mozzarella slices on top, season and sprinkle with the remaining shredded basil.  Bake for 20 minutes until golden.  Scatter over the basil leaves to serve.
Tuna & Potato Wedge Melt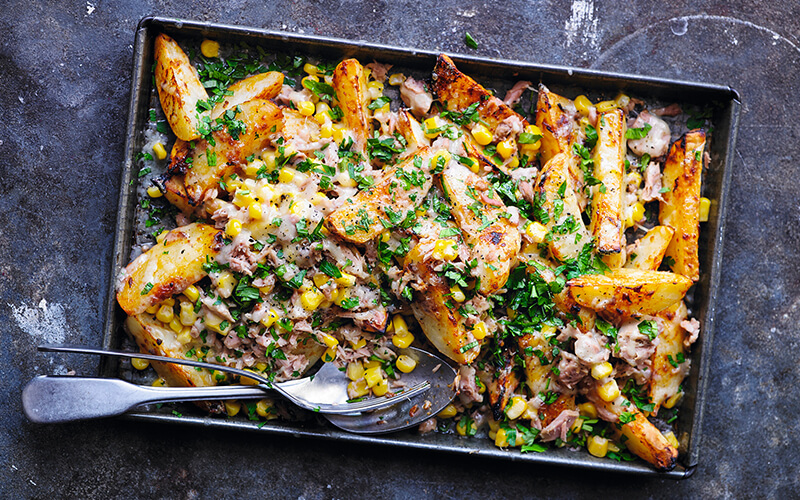 Preparation time: 5 minutes
Cooking time: 25 minutes
Total time: 30 minutes
Serves: 4
Ingredients
2 x 200g cans of essential Waitrose Tuna Steak in Olive Oil, drained
150g essential Waitrose Mature Grated Cheddar, grated
800g King Edward potatoes, cut into wedges
2 red or yellow peppers, sliced
2 tbsp Waitrose extra virgin olive oil
4 tsp Waitrose Cooks' Ingredients Chipotle paste
150g frozen sweetcorn, defrosted
2 tbsp chopped parsley
Method
Preheat the oven to 220°C, gas mark 7.
Toss the potato wedges and pepper in oil and chipotle paste and spread out onto a baking tray in a single layer. Roast for 20-25 minutes until golden and crispy then transfer to a shallow heatproof dish.
Mix the sweetcorn and tuna and spoon onto the potatoes. Top with cheese, place under a preheated grill for 2-3 minutes, then sprinkle with parsley and serve.
Speedy Smoked Haddock Rösti Bake
This quick version of fish pie is great for after-work suppers and it provides generous portions. For a more sophisticated version, add cooked tiger prawns. We've used individual dishes but if you want to make one large dish, simply increase the cooking time by 10 minutes or so.
Serves: 4
Ingredients
400g traditional smoked haddock fillets, skinned and cut into bite-size pieces
2 x 350g pots Waitrose Fresh Cheese Sauce or 95% Fat Free Cheese Sauce
2 x 400g packs Waitrose Rösti
Knob of butter, melted
2 tbsp freshly grated Parmesan cheese
Method
Preheat the oven to 220°C, gas mark 7. Divide the fish pieces between four gratin dishes and top generously with the cheese sauce
Gently break up the rösti mixture in a large bowl and stir in the melted butter using two forks. Sprinkle over the fish and sauce but don't press down. Top with the Parmesan cheese.
Bake on the top shelf in the oven for 20 minutes or until the fish is cooked and the rösti is golden.
If you enjoyed this article, you may be interested in reading Waitrose's top tips on creating healthy school lunchboxes (that your child will actually eat) here.