Angel Chicken Pasta is an easy chicken recipe perfect for weeknight dinners. Chicken breasts bake right in a quick creamy sauce that's packed with flavor and served with Angel Hair Pasta! Even the pickiest eaters will love this dish!
You KNOW I am all about an easy chicken recipe. Besides cookies, I feel like I bake chicken more than anything else! But I guess my family does need to eat dinner everyday…so there's that.
This Angel Chicken is an easy weeknight dinner idea that I know you will love. With kids back to school in full swing, and lives always busy having dinner planned out is a huge stress reliever. AND I will fill you in on all the shortcuts, tricks, and adaptations that this chicken recipe allows. I ADORE a recipe that I can switch up for even the pickiest eater, and this one fits the bill!
Looking for more chicken recipes? Here are a few I know you will love:
What IS Angel Chicken?
Well, the short answer is chicken breasts in a creamy sauce served over Angel Hair Pasta! Sounds like a winner, right?
I have been eating versions of this dish my entire life. It's a quintessential Midwest-style dinner, complete with condensed soup and everything. Yes, I know, I know, some of you are totally against condensed soup…and I usually try and avoid it, but in recipes like this that are nostalgic and quick I take the shortcut.
All you do is line chicken breasts in a large baking dish, heat up the sauce ingredients until they are warm, pour that over the chicken and bake. Serve it with Angel hair…hence the name!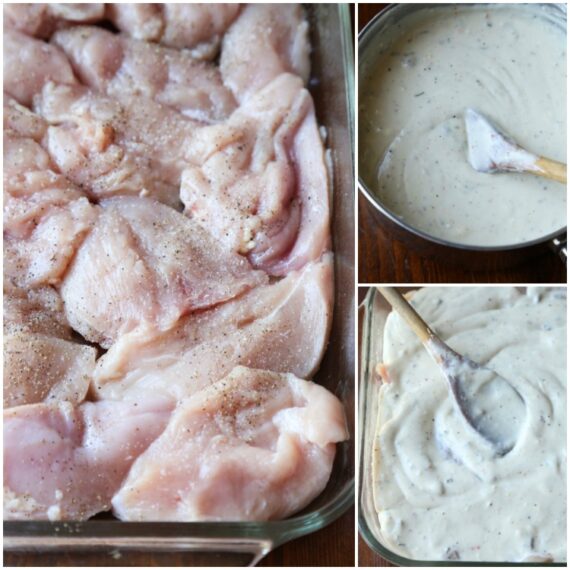 What Can You Add To This Angel Chicken Recipe?
The possibilities are pretty endless here. You can add just about anything you enjoy paired with chicken and pasta. Here are a few of my favorite adaptations:
Sautéed Mushrooms – You are using Cream of Mushroom soup, so this is an obvious one for any mushroom lovers out there! OR if you don't like mushrooms, use Cream of Chicken soup instead!
Peas – I like adding green veggies right into the sauce and peas work perfectly! You can also use cut green beans as well. Certainly you can use fresh, OR thaw out some frozen and add them in before you bake!
Artichoke Hearts – I LOVE artichoke hearts, so you can buy some canned ones, drain them, coarsely chop and mix them right into the sauce!
Roasted Red Peppers – This is a great idea to add flavor and color. Chop up some drained roasted red peppers and mix that into the sauce before baking!
Spinach – Another way to get your greens in! Use a bag of pre-washed spinach and add that into the sauce at the end of warming it up so it wilts a bit. It will continue to wilt while it's baking.
How Else Can I Season This Chicken Recipe?
The great thing about Angel Chicken is that while it's got plenty of flavor, it isn't STRONG if that makes sense, which is why it's so great for picky eaters. Remember the base seasoning of this is the Italian Dressing seasoning packet?
Well, if for some crazy reason you don't love the base flavor, or want to jazz it up a little, here are a few options:
Ranch Seasoning – Sub out the Italian for Ranch and voila!
Add Heat – Add in a teaspoon(ish) of crushed red pepper to amp up the heat factor!
Flavored Cream Cheese – This recipe calls for cream cheese with chives, which tastes an awful lot like sour cream and onion dip, but if that's not your thing I know they make a veggie cream cheese, or even a bacon cream cheese that would be great in this Angel Chicken!
Italian Seasoning – The Italian dressing packet is great and all, but to add to that flavor profile I totally recommend adding in a few teaspoons of Italian seasoning as well!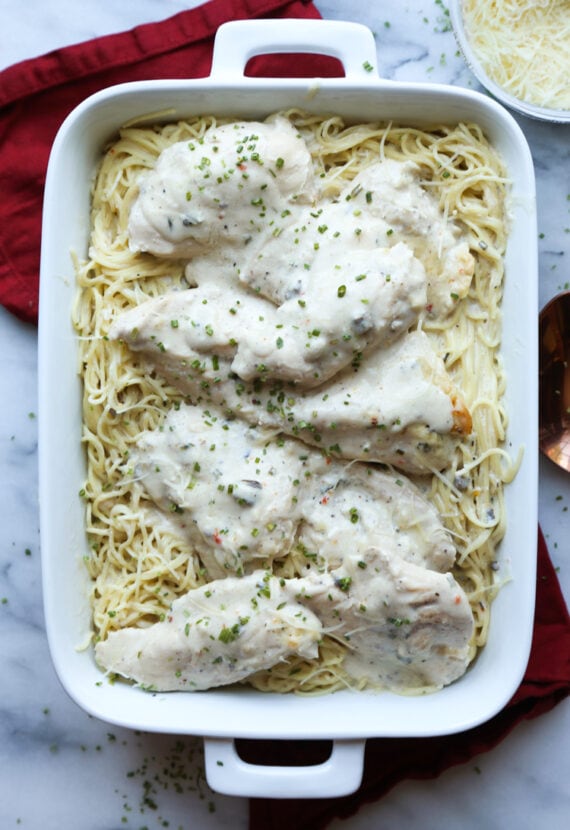 Can You Make This Angel Chicken In The Crock Pot?
Yes!! I have made this (without the pasta) in the slow cooker many times. Here's what you do:
Season chicken with salt and pepper and place into the slow cooker (instead of on a baking dish)
Heat up the sauce, the same as you would in steps 3 & 4 of the recipe.
Pour the sauce over top of the chicken in the slow cooker.
Cook on low for 6-7 hours, or on high for 3-4 hours. Make sure you don't cook this too long that the chicken shreds. You want it to be tender but not so much that it falls apart.
Boil the pasta and coat the pasta with the sauce!
How About Making This Angel Chicken In Advance?
Yep, easily! If the slow cooker isn't your thing, make the chicken in advance…even the day before you're serving.
When you're ready, just heat the chicken and sauce up in a large Dutch Oven and boil the pasta according to the package directions!
Still Not Convinced This What You Want For Dinner? Try These Other Easy Chicken Recipes: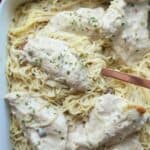 ---
Description
This chicken pasta dinner is a great weeknight meal that even the pickiest eaters will love!
---
Ingredients
3

–

3 1/2

pounds boneless, skinless chicken breasts, trimmed

1 teaspoon

kosher salt

1 teaspoon

black pepper

1/2 cup

butter

2

(0.7- ounce) packages Italian dressing mix

2

(10.5- ounce) cans cream of mushroom soup

1 cup

chicken broth or white wine

8 ounce

s cream cheese with chives

1

pound Angel Hair pasta
---
Instructions
Preheat oven to 325°F.
Coat an 11×15 baking pan with nonstick spray and place the chicken breasts in one layer in the pan. Sprinkle with salt and pepper and set aside.
In a large saucepan, melt the butter over medium heat. Stir in the Italian seasoning packets, cream of mushroom soup, and chicken broth (or wine) and heat until very warm but not boiling.
Stir in the cream cheese until melted and remove from heat.
Pour the mixture on top of the chicken and bake for 45 minutes, or until bubbly and chicken is cooked through.
When chicken is almost done, cook Angel Hair pasta according to package directions and drain.
Coat the pasta with the sauce from the chicken and serve.
Garnish with chives and Parmesan cheese if desired.
---
Notes
Store airtight in the refrigerator for up to 3 days.
If you would like to enjoy this without the pasta, cut the sauce ingredients in half and bake according to recipe.
Keywords: cookies and cups, chicken recipe, pasta recipe, chicken dinner, pasta dinner, easy dinner recipe