This post may contain affiliate links. Please read my disclosure policy.
This healthy banana bread recipe is easy to make, naturally gluten-free, and full of the best rich banana-y flavors.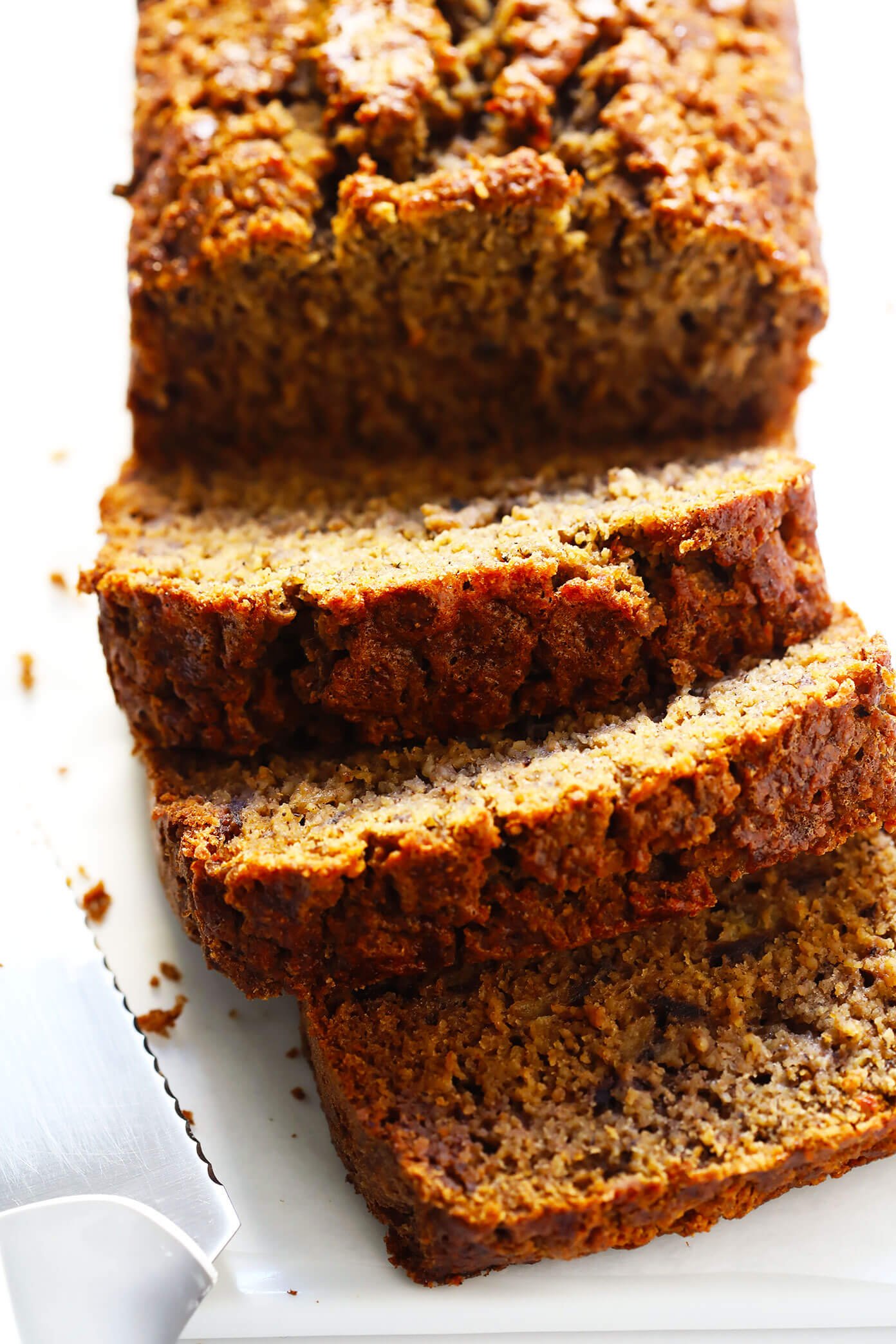 Friends, do you have an amazing healthy banana bread recipe in your back pocket these days?
If not, I can't recommend this one enough. ♡
It's basically a simple adaptation of my favorite healthy banana muffins recipe turned into — you guessed it — banana bread.  And it is everything you could want in a good banana bread and more.
First and most importantly, I love this recipe because is deliciously banana-forward.  There are a few delicious warming spices and vanilla mixed into the batter too, but they are firmly in the supporting role here so that the bananas (hopefully nice and brown and deliciously over-ripe!) can be the stars of the show here.  I also love this recipe because it is naturally sweetened with just a half cup of maple syrup, which adds a wonderful subtle touch of flavor and also prevents this bread from being overly sweet.  It's also naturally gluten-free and dairy-free, easy to prep in just 10 minutes or so, and it bakes up to be perfectly rich and moist.  But most impressively — especially with this list of healthier ingredients — it is just legit delicious.
We go back and forth in our house between making banana bread and banana muffins, so feel free to go with whatever works best for you.  But for everyone who has requested a lightened-up banana bread recipe, here's how I make mine!
Healthy Banana Bread Ingredients:
To make this healthy banana bread recipe, you will need the following ingredients (see the full recipe below for detailed amounts and instructions):
Mashed ripe bananas: Preferably over-ripe, so that they will add extra sweetness and rich flavor to the recipe.  Just mash and pack them tightly into a measuring cup to measure the correct amount.  (1 cup typically equals two medium bananas.)
Old-fashioned oats: Which we will pulse in the blender or food processor until they are finely ground to make our oat flour.  (Or, you can just use store-bought oat flour instead.)
Pumpkin pie spice: Turns out this spice blend pairs just as deliciously with bananas as it does pumpkin!
Almond milk: Or your favorite kind of plain nut milk, oat milk or cow's milk.
Maple syrup: Or you could sub in honey if you prefer.
Coconut oil: Or any mild-flavored oil.
Eggs, salt, vanilla and baking soda: Because…bread. ♡
How To Make Banana Bread:
To make this easy banana bread recipe, simply…
Mix the dry ingredients. Which we will do in a blender or food processor — puréeing the oats into flour before adding the other ingredients.
Mix wet ingredients. Then, in a separate bowl, whisk together the wet ingredients.  And gently fold the dry ingredients into them.  (Be careful not to overmix the batter!)
Bake. Pour the batter into a 9 x 5-inch bread pan, bake until the bread is nice and golden on top and passes the toothpick test, then let it rest on a cooling rack for at least 5 minutes.
Serve. Then I highly recommend enjoying your first slice while the bread is still nice and warm — there's nothing better!
Optional Add-Ins:
I'm one of those people who loves my homemade banana bread straight-ahead, no-frills, just-as-it-is plain.  😉  But for those of you who love those extra add-ins, feel free to include some…
Chocolate chips: Because…chocolate.  You can either sprinkle them on top of the bread, or fold a handful into the batter.
Nuts or seeds: Such as pepitas, pecans, sunflower seeds, walnuts, etc.  You can either sprinkle them on top of the bread, or fold a handful into the batter.
Dried fruit: Dried cranberries, raisins, apricots…whatever you love.
Turbinado sugar: If you would like the bread to be a bit sweeter (and also give the crust an extra crunch), I also love sprinkling a few generous pinches of turbinado sugar on top of the batter just before baking.
A maple glaze: Or you could make a glaze!  Simply whisk together powdered sugar and maple syrup until they form a glaze-like consistency, and drizzle over your bread for extra sweetness.
---
Scale
Ingredients
3 cup

s old-fashioned oats*

1 tablespoon

 pumpkin pie spice, homemade or store-bought

1 1/2 teaspoon

s baking soda

3/4 teaspoon

 fine sea salt

2

 eggs

1 cup

 unsweetened almond milk, plain or vanilla

1 cup

 tightly-packed mashed ripe bananas

1/2 cup

 maple syrup

3 tablespoon

s melted coconut oil (or any mild-flavored oil)

1 teaspoon

 vanilla extract
optional: turbinado sugar for sprinkling
---
Instructions
Prep oven and bread pan. Preheat oven to 350°F. Line a 9 x 5-inch bread pan with parchment paper, or lightly grease with cooking spray.  Set aside.
Mix dry ingredients. Purée oats in a blender or food processor until they reach a flour-like consistency.  Add in the pumpkin pie spice, baking soda and sea salt, and pulse until the mixture is evenly combined.  Set aside.
Mix wet ingredients. In a separate large mixing bowl, whisk together the eggs, milk, mashed banana, maple syrup, coconut oil and vanilla extract until evenly combined.  Fold the dry ingredients in with the wet ingredient mixture, and stir until the mixture is just combined.  (Try to avoid over-mixing.)
Bake. Pour the batter into the bread pan and spread it out evenly.  (If you would like a sweeter bread, you can sprinkle the top of the batter evenly with turbinado sugar.)  Bake for 45-55 minutes, or until a toothpick inserted in the center of the muffins comes out clean.  Remove pan from the oven and place on a cooling rack for 5 minutes.
Serve. Serve warm.  Or let the bread cool to room temperature, then store in a sealed container for up to 3 days, or freeze for up to 3 months.
---
Notes
Oat flour amount: If using store-bought (pre-ground) oat flour, you will need 240 grams (which equals 2 cups or 8.4 ounces) of oat flour.  As always if you are making this recipe gluten-free, double-check the label to see that your oats are certified gluten-free.